I've been on hiatus for a long while due to some personal matters. Suffice to say, it's affected normal activity (movies, art) for me for the past few months. Anyway, things will be getting back to normal around here, and to start off, here's wishing everyone a Merry Christmas. I'm posting an unfinished drawing that I started doing in September, featuring some movies I'd watched around that time —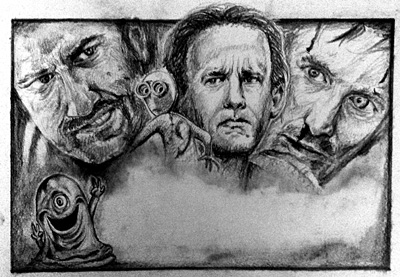 This one is notable since I did it in pencil (4B and 6B), as opposed to ballpoint pen like some of my other drawings. The version I've put up here is a photo and not a scan. My Best Movies of 2009 drawing is due soon, and I'm doing that also in pencil, inspired by what effects I could get with this piece (so you see, it's not entirely a waste).
The movies featured in this picture (you can guess) —
Gamer — A fun little movie from the creators of the Crank movies, Mark Neveldine and Bryan Taylor. In the future, players will be able to control real humans in an FPS game called "Slayers", and a participant (typically a death row convict) who survives 30 sessions will get to go free. Gerard Butler is Kable, a man who has only a couple of sessions to go to freedom. Entertaining. Rating: 7/10
9 — A sock puppet (number "9") awakens in a future world where humanity is dead. What happened to the world and why are there mechanical beasts that want to destroy 9 and the other puppets like him? Shane Acker's atmospheric animated feature must be seen on the big screen. Rating: 8/10
Angels & Demons — Slick movie with high production values but strangely underwhelming. The plot involves Dr Robert Langdon racing against time to save kidnapped Popes from death, and thwart the Illuminati who want to detonate a doomsday device. Rating: 7/10
District 9 — Stunning science fiction movie from writer/director Neill Blomkamp that is definitely one of the best movies of the year! In 1982 a huge spaceship shows up over Johannesburg, however, first contact is not at all like what we imagined, since the ship is populated with malnourished and dying aliens. The creatures (dubbed "prawns") are made to stay in the shanty-town District 9. 28 years later, the MNU (Multi National United) initiates an effort to relocate the aliens to a different colony, and official Wikus Van De Merwe (Sharlto Copley) has an encounter with alien technology that will forever change his life. Extraordinary movie with some stunning CGI and brilliant action and gore sequences! Rating: 10/10
Monsters vs Aliens — Underwhelming movie about a group of monsters under US Government supervision who must team forces to save Earth from the evil Gallaxhar. Some bits are funny but otherwise I expected a lot more from this movie (considering that the screenwriters of Kung Fu Panda were also involved in this). I didn't see it in 3D though I doubt the extra dimension would have helped much. Rating: 6/10
Next post, I will put up one more drawing I did, and that's a completed one.