In February, I had the pleasure of watching director Anurag Kashyap's movie Dev.D in a theatre. I liked it a lot and was very inspired by it, which led me to do the below drawing —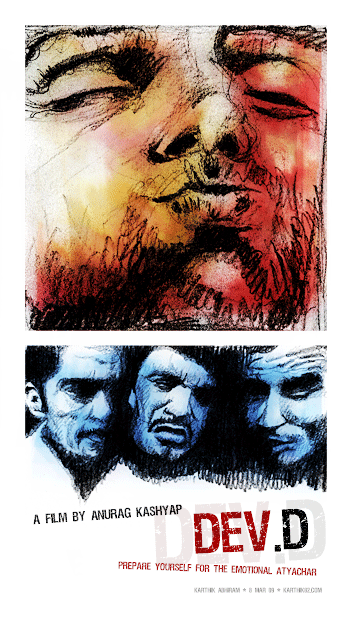 This drawing has been added to the Gallery, click on the above image to see the respective page. A little bit about the movie now — Dev.D is a modern retelling of the 1917 story "Devdas". A disclaimer here: I only have a very superficial background of this story, because neither have I read the original story, nor have I watched the 2002 Shah Rukh Khan film Devdas (not my type of movie). Anyway, familiarity with the original story is not essential to one's enjoyment of the movie. Abhay Deol stars as Dev, the spoilt rich son of a wealthy Punjabi businessman. Dev loves (or rather, thinks he loves) Parminder a.k.a. Paro (Mahi Gill) since childhood, and they keep in touch inspite him going off to London to study. On Dev's return, his attitude towards Paro causes her to reject him and marry someone else, and thus begins Dev's downward spiral into self-destruction! Dev finds solace in his relationship with Leni a.k.a. Chandramukhi (Kalki Koechlin), a young girl turned to prostitution. There isn't much more to the story — but you should simply enjoy how the whole thing is put together. Great cinematography (Rajeev Ravi, who worked on the director's earlier No Smoking and his next film Gulaal), songs and music, and performances. It's not a movie for everyone though — people who are expecting a linear storyline that develops in a traditional way would find the movie boring. But I loved the movie, and thus far, it is definitely my favourite Hindi movie of 2009. The movie has a style all its own and uses several camera tricks — the "SnorriCam" which you might remember from Lock, Stock and Two Smoking Barrels, and an entirely bizarre "tripping out" movement where the camera circles around the actors rapidly with lights streaking past. Apart from the photography, the director uses music and songs (there are around 18 songs on the soundtrack, in various styles) to convey emotion, or rather, the "Emotional Atyachar" of the characters. The UK group "Twilight Players" show up at different places performing to some of the songs, and move the plot along. It's a great experience watching this movie — right up to the end credits, which start off upside down (all text is inverted and it starts dropping from the top of the screen) and then the entire screen rotates and the credits resume their normal style. One thing I noticed, is that Dev uses Bose Earphones throughout the movie — the same ones I bought for Rs 4950.
Extra Reading and References
Check out the following links for more about Dev.D and Anurag Kashyap —
DVD Review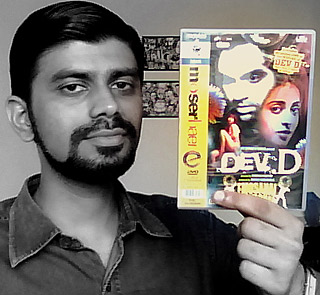 Ever since I saw the movie I have been waiting for it to hit DVD, and that happened a couple of days back! The DVD is released by Moser Baer Home Video, and I bought it as soon as I could. It is worth every rupee of the Rs 149 I paid for it! It is a 2-disc edition. The first disc has the movie in a quality transfer (which is essential to enjoy the movie's excellent cinematography), with a 5.1 surround sound mix and the usual English subtitles. The movie runs 2 hours and 18 minutes and as far as I can tell it is exactly the same as the version released in theatres (no extras). There are a few trailers included on this disc as well. The second disc has over two hours of behind the scenes footage (essentially comprising of an extensive documentary that touches upon different aspects of the movie). Here is what they have included on disc two —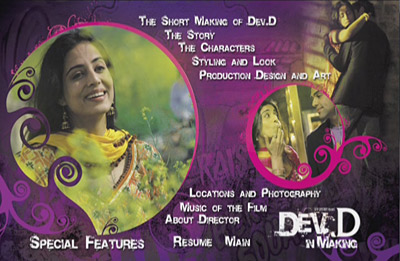 The Short Making of Dev.D (26 minutes) — a compilation of "highlights" from the other features. This is the exact same video I linked to earlier on in this post.
The Story (10 minutes) — Anurag Kashyap and screenwriter Vikramaditya Motwane talk about the development of the story. Similar ground is covered in the Passion for Cinema post I linked to earlier.
The Characters (51 minutes) — This feature talks about the characters of Dev, Paro, Chanda, Chunni.
Styling and Look (9 minutes) — Interview with the Costume Designer about the look for the various characters.
Production Design and Art (13 minutes) — Interview with Production Designers about how they "dressed up" the various locations in the movie. The "waiting room" in the brothel that Dev goes to, has comic book pages as wallpaper — apparently that was the director's idea and they used pages from an issue of Heavy Metal.
Locations and Photography (18 minutes) — I would have loved it if this feature went into more technical detail on the cinematography, but we'll have to settle for what we get.
Music of the Film (25 minutes) — Interview with Music Director Amit Trivedi and Lyricist Amitabh Bhattacharya on the songs of the movie.
About the Director (11 minutes) — Kind of like an overview / wrap to the special features.
There are a few deleted scenes from Dev.D that are available to watch on YouTube, but they're not included on this DVD. And it would have been nice if they'd have included the X Rated Emotional Atyachar song too!
I have been very busy at work recently, that's why I have been posting infrequently. But I did get to see some major movie releases recently —
13B — Seen on 21-Mar-09 in BIG Cinemas. Decent movie, but I didn't think it was groundbreaking like some people said. A pretty standard horror thriller about Manohar (R Madhavan) and his family moving into a new house, and the strange things that happen. Technically the movie was good but it is quite similar to one of those Japanese or Korean spook movies. One small nitpick I have is that they show newspapers supposedly printed in 1977 and they are typeset in Arial and Times New Roman! Arial is an 1980s typeface and it seemed totally out of place. Anyway for the movie I'd give a 6/10.
Gulaal — Seen on 22-Mar-09 in BIG Cinemas. I would call this a treat for the senses. It is about politics in the fictional state of Rajpur, so not typically my kind of movie, but I went to see it anyway because of the director. The movie is beautifully shot and it's just great to see everything come together (acting, editing, music, cinematography) the way it did. Lots of little touches like the names of wine brands all having a political theme (Democrat, Republic, Communist, etc) and the neon sign that says "Hello There" being turned into "Hell here" when the O and the T blink off. This is the next DVD release I am waiting for! Rating: 8/10
Watchmen — I've waited over a year to watch this movie. Finally got to see it on an IMAX screen on 28-Mar-09. Like when I saw Sin City it was difficult for me to consider the movie on its own merits, because it was so close to the source graphic novel! What they pulled off with this is simply stunning. Some aspects of the movie exceeded expectations, while some others fell a little short (the portrayal of Ozymandias's character for example). Anyway, the movie seemed too short even at 2.5 hours, so I will wait for the 3.5 hour extended version to come out on DVD. I'd rate it 9/10.
The weekend that I watched Gulaal, I got a bunch of art supplies as well (sheets of canvas, acrylic paints). This will be made use of, soon.