Sometime back, Varun got instrumental versions of a few songs, and a couple of days ago, he recorded a cover version of Green Day's "Boulevard of Broken Dreams" using one of those karaoke MP3s. I was inspired by this and so I decided to have a go at it myself!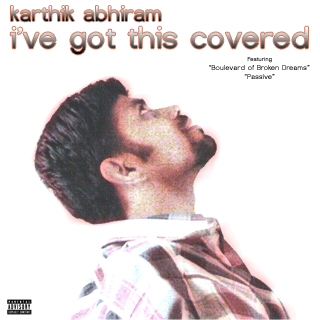 The result, is two MP3s which you can download now, forming a little album I'm calling I've Got This Covered! Yes, that's the album cover you see above, you can click for a larger version. And below, are links to the two songs —
Karthik Abhiram - Boulevard of Broken Dreams (4 min 21 s, 3.98 MB)
Karthik Abhiram - Passive (Segment) (1 min 35 s, 1.45 MB)
The first MP3 is a cover of the Green Day song, while the second one is just me singing the first verse from the song "Passive" by A Perfect Circle. If you're looking for powerful vocals or an original spin to these songs, look elsewhere — I did these just for fun. Anyway, let me know what you think of them!
Green Day — Boulevard of Broken Dreams

I walk a lonely road, the only one that I have ever known
Don't know where it goes, but it's home to me and I walk alone
I walk this empty street, on the boulevard of broken dreams
Where the city sleeps, and I'm the only one and I walk alone

I walk alone, I walk alone
I walk alone, I walk a-
My shadow's the only one that walks beside me
My shallow heart's the only thing that's beating
Sometimes I wish someone out there would find me
Till then I walk alone

I'm walking down the line, that divides me somewhere in my mind
On the borderline, of the edge and where I walk alone
Read between the lines, what's fucked up and every thing's alright
Check my vital signs, and know I'm still alive and I walk alone
[repeat chorus]
I walk this empty street, on the boulevard of broken dreams
Where the city sleeps, and I'm the only one and I walk a-
[repeat chorus]
A Perfect Circle — Passive

You're dead as dead can be
My doctor tells me, but I just can't believe him
Never the optimistic one, I'm sure of your ability to become my perfect enemy

Wake up, and face me, don't play dead, 'cause maybe
Some day, I will walk away, and say, you disappoint me
Maybe you're better off this way

Leaning over you here, cold and catatonic
I catch a brief reflection of what you could and might have been, it's your right, and your ability to become my perfect enemy
[repeat chorus]