As I'd mentioned in an earlier post, I started watching the TV show Lost in June, and by now, I finished watching all 5 seasons of the show. Without a doubt it is an excellent TV show — with well-written characters, intriguing mysteries and plenty of twists to keep things interesting. I am waiting to watch episodes of Season 6 in 2010! In the mean time, here are two drawings I did based on Lost —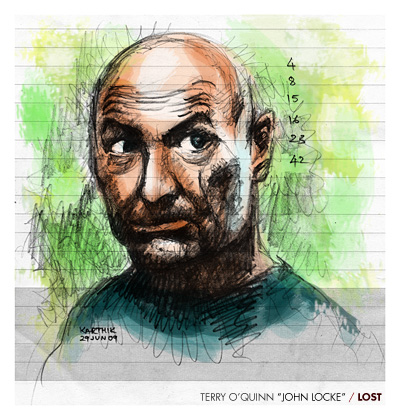 This is a picture of Terry O'Quinn as John Locke, one of my favourite characters from the show. I did this at the time I was watching Season 2, hence the "Lost numbers" — 4 8 15 16 23 42 — are on the drawing. The characters are told that they must enter these numbers into a computer terminal every 108 minutes to prevent the end of the world!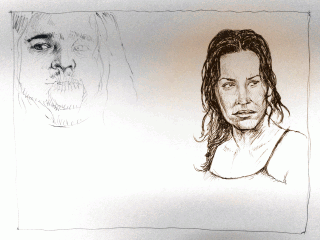 The above is a picture I started drawing, and features Evangeline Lilly as Kate Austen and Jorge Garcia as Hugo "Hurley" Reyes. I plan to do more of these character drawings later, and I especially want to do one of Michael Emerson as Benjamin Linus (I still think of "Hello Zepp" from Saw when I see him).