ICK
Replaces: Ultimate Doom, E2M1
File Size: 28.9 KB
Download from Karthik82.com
Download from /idgames Archives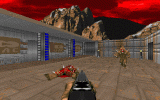 ICK was the first map that I ever released. It has an E2 style look, and is quite a short level. It's called ICK because many of the areas here use the ICKWALL textures (besides that, I wasn't able to think of a better title). There are skill settings implemented, and the music from E3M3 ("Deep Into The Code") is used.
I've got many demos for this map and you can download all of them from Opulent's Doomed Speed Demos Archive.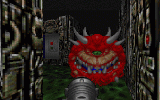 Demos
3 April 2001 - Opulent sent me a 100% demo on UV Skill in 2:57
5 April 2001 - Opulent beat his earlier demo, this time he did a 2:30 Nightmare Run
11 April 2001 - Albert Valls sent me a UV demo with -fast monsters in 3:38
4 July 2001 - Albert Valls did a Tyson demo this time, 4:25
Doomworld's /newstuff Chronicles Review by AndrewB - 9 April 2001
"One map for Ultimate DOOM, running on E2M1. Another WAD with a distinct original DOOM feel to it. This one taking on more of an Episode 2 atmosphere. A somewhat small level, with typical ID-quality design and puzzles. Not too hard, not too easy. And enough ammunition that you should never run out."
Comments for this Doom WAD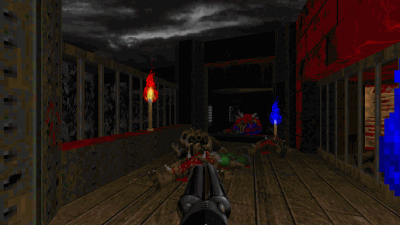 Dark Fate 2 is a singleplayer level for Doom II, replacing MAP01. It's a small-sized hellish level — and there's a walkthrough video as well.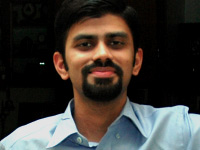 27-year old Taurean (birthday 15-May-82), Assistant Manager - HR at Tata Consultancy Services Ltd in Hyderabad, India. Previously, did Post Graduate Diploma in Management from T A Pai Management Institute (2003-05) and before that, Computer Science Engineering from Sree Nidhi Institute of Science and Technology (1999-2003).
Email: karthik82 -AT- gmail -DOT- com
orkut profile
Facebook profile
YouTube channel
deviantART page
Google Reader Shared Items
Disclaimer: The views expressed on this site are purely my own.
Warning: This site occasionally contains profanity.