Metamorphism (by Brad Spencer and Karthik Abhiram)
Replaces: Doom II, MAP01
File Size: 283 KB
» Download from Karthik82.com «
Download from /idgames Archives
Metamorphism is different from any of the other WADs you'll find on my site. The reason for this is, it's the first time I'm making a map with someone else!
Sometime back in January, Brad Spencer emailed me with an idea: him and me could collaborate on a Doom II map together. We decided that each of us would work on this map for a week, then pass it on to the other person on Sunday. This process continued for about 5 months, and finally, in June 2003, the map was completed.
Early on during development, we exceeded Doom's limits, so we thought we'd make this map for a port only. But thanks to some 10 hours that Brad and a few other people spent (see credits in the text file), the map was made doom2.exe compatible.
I have to also say that it was a pretty cool experience collaborating with Brad on this! Download is recommended, heheh.
Screenshots
Reviews and Comments
Metamorphism was one of the 2003 Great Doom Releases at The DooMer's RecesS.
The level was reviewed by Ismaele (at his site, the Outpost of Doom II), and Kak Home (for the Doom WAD Station), pretty soon after it's release.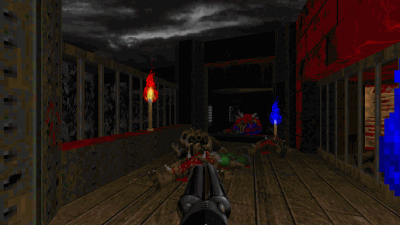 Dark Fate 2 is a singleplayer level for Doom II, replacing MAP01. It's a small-sized hellish level — and there's a walkthrough video as well.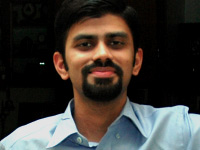 27-year old Taurean (birthday 15-May-82), Assistant Manager - HR at Tata Consultancy Services Ltd in Hyderabad, India. Previously, did Post Graduate Diploma in Management from T A Pai Management Institute (2003-05) and before that, Computer Science Engineering from Sree Nidhi Institute of Science and Technology (1999-2003).
Email: karthik82 -AT- gmail -DOT- com
orkut profile
Facebook profile
YouTube channel
deviantART page
Google Reader Shared Items
Disclaimer: The views expressed on this site are purely my own.
Warning: This site occasionally contains profanity.