Out of Phase
Replaces: Doom II, MAP01
File Size: 19.4 KB
Download from Karthik82.com
Download from /idgames Archives
Out of Phase is a level for Doom II. It was completed on 3 October 2001. I started building this one Sunday, and it soon grew into a full map. This is different in style from any map I've ever made. It takes place in a sort of tech-style base that's floating in the air. And there's more detail and lighting in this level than my previous levels. It features full skill settings, and there's also a music replacement - listen to Dub in Life by Eiffel 65 while you play it! It's a short level, and in my opinion it's neither too easy nor too difficult.
Coincidentally, 3 October 2000 (one year before the completion of this level) was the completion date of my FIRST WAD, which was never released. :)
Do you want to know where the name came from? It's funny actually... I was teaching my brother some Physics lessons and the words "out of phase" seemed to fit this map!
15 Oct 2001 - Opulent sent a "first look" demo (basically instead of writing his comments, he sent the demo) - this was really helpful to me because it pointed out things that could be improved in further WADs.
17 Oct 2001 - Varun did some demos of the map too. His time for UV max is 1:31.
20 Oct 2001 - Albert Valls sent three demos - UV Max in 1:23, UV -fast in 1:28 and Reality in 1:52.
20 November 2001 - Watched Metabolist's demo
Other demos - 31 December 2001 - Joe Pallai sent me a demo of this level showing off the archvile bug. It's a very interesting demo featuring an invulnerable/noclipping caco!
Reviews
17 June 2003 - Eric Buck reviewed this map at the Doom Wad Station, here.
Doomworld's /newstuff Chronicles Review by AndrewB - 28 October 2001
"This would be our first single-player map released in quite a while. One map for Doom2, a relative small and easy map. This level has somewhat of a space-base-in-space theme, with sky textures in the floor and cramped corridors. Almost every line in the map is 90°, so it is quite square. There's not all that much detail, and more than enough ammo and health to kill everything with relative ease. However, how fun a map is depends on how hungry you are. There's also a nice MIDI music replacement."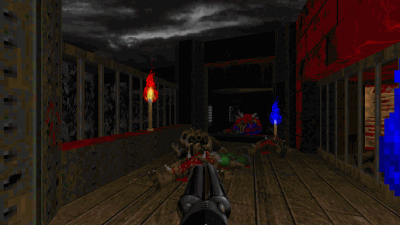 Dark Fate 2 is a singleplayer level for Doom II, replacing MAP01. It's a small-sized hellish level — and there's a walkthrough video as well.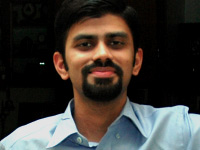 27-year old Taurean (birthday 15-May-82), Assistant Manager - HR at Tata Consultancy Services Ltd in Hyderabad, India. Previously, did Post Graduate Diploma in Management from T A Pai Management Institute (2003-05) and before that, Computer Science Engineering from Sree Nidhi Institute of Science and Technology (1999-2003).
Email: karthik82 -AT- gmail -DOT- com
orkut profile
Facebook profile
YouTube channel
deviantART page
Google Reader Shared Items
Disclaimer: The views expressed on this site are purely my own.
Warning: This site occasionally contains profanity.