Out of Phase II
Replaces: Doom II, MAP01 and MAP02
File Size: 125 KB
Download from Karthik82.com
Download from /idgames Archives
Out of Phase II is a sequel to the first Out of Phase level... this time there are TWO maps, not one. The style of both levels is the same again, and gameplay is less linear this time. 4 new music replacements are included, there are new graphics made by me (thanks to Damian Lee for his help with that), and you can play Deathmatch too :).
Out of Phase II was completed on 1 January 2002. I guess that makes it one of the first maps to be released in 2002, so Happy New Year!
Albert Valls did a MAP01 speedrun in just 30 seconds!
Opulent did a maxdemo of MAP01 in exactly one minute.
Based on Opulent's route, Albert did MAP01 in 0:58 and MAP02 in 1:46.
Wim Vanrie later sent me a demo of MAP01 in 1:10, but later improved his time by 11 seconds to 0:59.
He also did MAP02 in 1:43.
Richard J. Sham sent a demo of him playing through both levels in Ultra Violence.
Mark Thompson did a speedrun of MAP01 in 0:58.
Doomworld's /newstuff Chronicles Review by AndrewB - 6 Jan 2002
"Two new maps for Doom 2. They have a variety of mild themes, in a mostly flat layout. The levels are a bit on the difficult side, with some medium-large monsters and a few traps. Both maps are small to medium size. Not all that much detail. It has a couple of decent music replacements though. And a water-paint sky."
Comments for this Doom WAD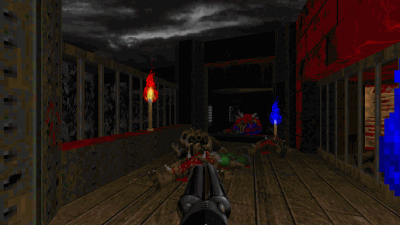 Dark Fate 2 is a singleplayer level for Doom II, replacing MAP01. It's a small-sized hellish level — and there's a walkthrough video as well.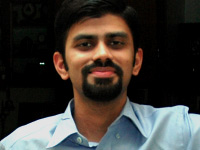 27-year old Taurean (birthday 15-May-82), Assistant Manager - HR at Tata Consultancy Services Ltd in Hyderabad, India. Previously, did Post Graduate Diploma in Management from T A Pai Management Institute (2003-05) and before that, Computer Science Engineering from Sree Nidhi Institute of Science and Technology (1999-2003).
Email: karthik82 -AT- gmail -DOT- com
orkut profile
Facebook profile
YouTube channel
deviantART page
Google Reader Shared Items
Disclaimer: The views expressed on this site are purely my own.
Warning: This site occasionally contains profanity.