Sarge Baldy Speedmapping Pack 19 - MAP01
In late 2001, Doomworld organised a weekly activity called Speedmapping, where participants could log on to an IRC chat channel, and have 100 minutes to create a Doom level based on the announced theme. All submitted levels would be released as a compilation the next day. Speedmapping kind of died out sometime in 2002 or 2003, but such events were later organised by people like Sarge Baldy and NiGHTMARE, even up to the present time.
I've taken part in Doomworld Speedmapping four times, in 2002, and twice in events organised by Sarge Baldy (early 2007, early 2008).
[ Sarge Baldy Speedmapping Page ]
Download SBSPD019 (127 KB, 5 maps)
Pack #19 - Based on favourite level (MAP01)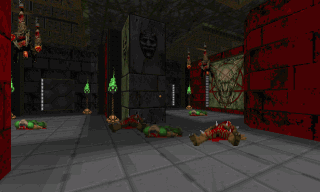 In March 2007 Sarge Baldy announced a Speedmapping event, and I decided to participate. It was a really good experience making a Doom map after a long time, as it had been almost 3 years since the time I last released a level! The theme this time was to make a map inspired by a favourite level, and I picked E3M5: Unholy Cathedral as my inspiration (the map seems lucky for me for some reason — my Abandoned Mines speedmap was also inspired by this and it is also a nice speedmap). I came up with a very short level (which would take only about 30 or 40 seconds to play), hence it became MAP01 in the compilation. It has only 8 monsters on it, but it is quite detailed in terms of appearance. It should be mentioned that this inspired me to release a proper-sized level, and so I am now working on Stygian_Nebula!
Comments for this Doom WAD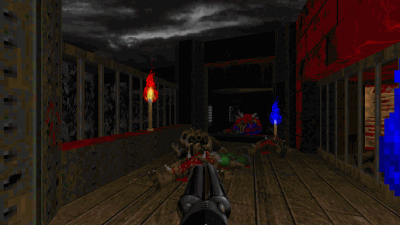 Dark Fate 2 is a singleplayer level for Doom II, replacing MAP01. It's a small-sized hellish level — and there's a walkthrough video as well.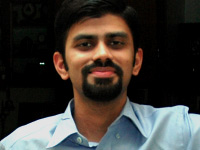 27-year old Taurean (birthday 15-May-82), Assistant Manager - HR at Tata Consultancy Services Ltd in Hyderabad, India. Previously, did Post Graduate Diploma in Management from T A Pai Management Institute (2003-05) and before that, Computer Science Engineering from Sree Nidhi Institute of Science and Technology (1999-2003).
Email: karthik82 -AT- gmail -DOT- com
orkut profile
Facebook profile
YouTube channel
deviantART page
Google Reader Shared Items
Disclaimer: The views expressed on this site are purely my own.
Warning: This site occasionally contains profanity.