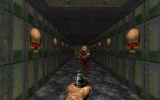 The Anomaly: Part II is Varun's first level, and I must say, it's a terrific map. The level runs on E4M6. It starts off with a demonic/tech look (see the first screenshot) and then soon turns into an Episode 4-style level.
There are many monsters throughout the level to keep you fighting. But there's always enough health and ammo to handle them, and so you'll have fun playing. There isn't much complication in actually completing the level because it doesn't have puzzles as such. Only, you'll have to think fast to escape from a dangerous trap in this level. Two keys are needed overall to complete the level, and a third (the yellow key) will allow you to find a secret area, though it's not necessary to find it.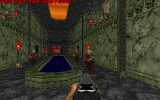 The secrets are well-hidden and very tough to find. There is some inventive use of teleporting monsters towards the end, and I liked the "rise of the cacodemon" part in the beginning (you'll know it when you see it). And what a conclusion to the level! I won't give away what it is, but it's definitely one of the most thrilling parts of the level - a sudden adrenaline rush!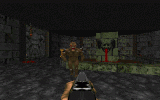 The level is very well planned and I liked the way the monsters are used - in certain places there are some very nice effects when the monsters come at you in a group. Lighting and texture use is very good as well - and so is the construction. Decorations like lamps, hanging dead bodies, etc. is used well to give the areas a very nice look. So, you have a level that looks great and is a lot of fun to play. Go and download it!
If you are using ZDoom to play this, make sure you use a version later than 1.22. There is a problem with ZDoom 1.22 (not the WAD) that makes it impossible to exit.
I rate all movies or game add-ons on a scale of 1 to 10 points. 1 is the lowest score, 6 is barely above average, 8 is good, and 10 is excellent (this score doesn't indicate something that is perfect in every way — it just means that I enjoyed it a lot). You'll find that I tend to give ratings of 8 and above often (that's only because I enjoy whatever I'm reviewing!). Reviews are updated as felt necessary. Of course, everything said in these reviews is my humble opinion only.