Darren Finch a.k.a. Doom_Dude · Doom II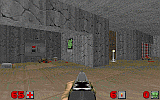 This is a Doom Legacy remake of the classic Doom II MAP02 - "Underhalls". As such, it is easy for anyone who's familiar with Doom II to understand the style of the level - a sort of tech facility with stone and computer screens here and there, limited outdoor areas and much of it set in dark tunnel-like corridors. The present level adds some Legacy features such as 3D floors and water. It's more of a "reinterpretation" than a direct remake, so there are some new ideas incorporated into the original design.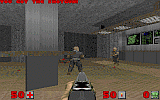 The layout of the level is the same as that of the original Underhalls. The entrance area leads you into a hall with two chambers - you activate a switch in one of them to open up a corridor on one side. You get the red key and use it to activate a switch in the other chamber, to open up the corridor on the other side. A bit of walking around in some underground spooky and watery areas gets you the blue key, which you use to exit.
All the familiar areas are there - the super shotgun room, the secret area just beside the red key, etc. There are no new additions but some of the existing areas look quite different from the original - like the entrance for example. The room where you get the red key is also a 3D structure here. And you can actually jump into the water tunnels this time (you'll be sloshing around in water in most of the other areas too). Many of the areas are also a lot bigger in size than in the original.
The level is of approximately the same difficulty as the original, and the whole thing is obviously a lot of fun. There are some new textures and flats used, which all look good and go very well with the level. New music? Not a chance (heh heh)! Overall it's a nicely made level that captures the feel of the original MAP02 well. It's a worthy download that will appeal to any Doomer!
The author of the present level obtained permission from American McGee (who designed the original Underhalls) for this recreation.
I rate all movies or game add-ons on a scale of 1 to 10 points. 1 is the lowest score, 6 is barely above average, 8 is good, and 10 is excellent (this score doesn't indicate something that is perfect in every way — it just means that I enjoyed it a lot). You'll find that I tend to give ratings of 8 and above often (that's only because I enjoy whatever I'm reviewing!). Reviews are updated as felt necessary. Of course, everything said in these reviews is my humble opinion only.