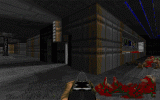 I downloaded this level after reading a review for it on Team Insanity a long time back. They rated this level very highly - and it's easy to see why. The effort that has gone into making this level is apparent from the great architecture and lighting. The look of the level is actually Episode 1 style, although there is a lot more detail! The detail in Atomic Tomb was one of the things I was most impressed by.
But even gameplay-wise, this map is very well done. It has continuous fights from start to finish. After you pick up your shotgun and shells in the first room, you enter a corridor with imps, zombies, shotgun guys and demons. More of them keep pouring in from the adjoining rooms. This map has rooms that are all connected with the first area, so you can keep running from one place to the other in order to dodge the monsters. There is no fixed path to complete the level - you can play it however you want.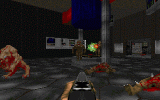 Finding the keys isn't difficult - but there are lots of monsters to fight, and the occasional ambush. If you look out of the window in the room you start in, you can see a very impressive room - but just wait till you actually come there. This construction of this hallway is really something to be inspired by. Unfortunately you can't admire the architecture here (or for that matter anywhere else in the level) for too long because this is one of the major monster attack areas - dozens of monsters teleport in the moment you go in there! Finally you have to use the blue and yellow keys to open the exit room. I was actually surprised by the amount of detail in the exit room, but Brad later told me in an email that it was not his original intention to make Atomic Tomb the one map that it is. That's why there is that elevator-like structure in the exit room.
The map isn't all that long, and the monster/ammo placement is just right (that berserk pack is there just when you need it). Skill settings are implemented nicely too, though I thought the map in general was a bit on the difficult side. This is a highly recommended level that I think will be enjoyed by experienced as well as novice Doomers.
I rate all movies or game add-ons on a scale of 1 to 10 points. 1 is the lowest score, 6 is barely above average, 8 is good, and 10 is excellent (this score doesn't indicate something that is perfect in every way — it just means that I enjoyed it a lot). You'll find that I tend to give ratings of 8 and above often (that's only because I enjoy whatever I'm reviewing!). Reviews are updated as felt necessary. Of course, everything said in these reviews is my humble opinion only.