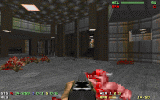 Timelessness is a classic Episode 1 style level for Doom. This level is heavily inspired by the original Doom's E1M7. In fact, the layout, the look and feel of several areas have the unmistakable stamp of that level's design! This you will notice from the moment you begin in the starting room. And until somewhere about three quarters of the level, there are constant reminders of E1M7 placed liberally. Since this level runs on E1M3, you will be listening to that level's music (one of my personal favourites), and I liked this combination a lot.
The whole level takes place in a claustrophobic UAC base, and it is mostly dark throughout. Everything happens indoors, which I thought was a nice touch, because it enhances that helpless feeling of being trapped with all these monsters. I actually got the feeling that I was underground!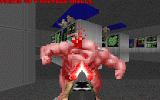 The level has a smooth, controlled pace. There are lots of monsters (more than 250 on Ultraviolence skill) but they come at you in more or less steady numbers, barring the occasional ambush. To complete the level, you will need to find all three keys, and this task is quite easily accomplished. And then there is a sort of puzzle at the very end of the level. If at all I had to fault something in this level, it would be the ending, because I thought it disrupted the otherwise smooth flow of things. But that's easy to forgive, because the level is very entertaining.
If you look closely at the texturing used in Timelessness, you will notice something quite surprising. First of all, you will not see the texture SUPPORT2 (the ubiquitous aluminium-like room separator texture used throughout Episode 1) anywhere. And then when you take a closer look, you will find that almost every single room has elements of rusted metal, and SUPPORT3 in it. Now take one more look. There are lots of elements (the hanging diamond shaped lights, the overall level of detailing, for example) that are usually found in modern levels, and which are nowhere to be seen in the original Episode 1. But all these things blend in so well that you will almost not notice them at all! And believe me this is not easy to achieve. I don't know if anyone else gives much importance to this particular aspect of the level, but somehow it's one of the things I was most impressed by.
I cannot fault the gameplay at all. I thought the monster-ammo-health balance was pulled off very well, supplying you with adequate amounts of items to finish the level without too much trouble. There were a couple of times my health dipped to a dangerous level, but that I guess is a result of my, uh... carelessness (sorry but I couldn't resist saying that). I also liked the last couple of fights because I thought they were well placed. The difficulty of the level is more or less the same as that of a typical Episode 1 style map, which means all Doomers should like it.
Overall, I liked Timelessness a lot, and I would highly recommend you play it too, because I think it's a very well done fusion of classic Doom design with a more modern style to it.
I rate all movies or game add-ons on a scale of 1 to 10 points. 1 is the lowest score, 6 is barely above average, 8 is good, and 10 is excellent (this score doesn't indicate something that is perfect in every way — it just means that I enjoyed it a lot). You'll find that I tend to give ratings of 8 and above often (that's only because I enjoy whatever I'm reviewing!). Reviews are updated as felt necessary. Of course, everything said in these reviews is my humble opinion only.