Saw Trilogy
Pencil and marker on paper, digital colour · 25 Feb 07
Attention! You are viewing a resized version of this drawing. There is a larger version available, which is of better clarity. Click on the image below to view it.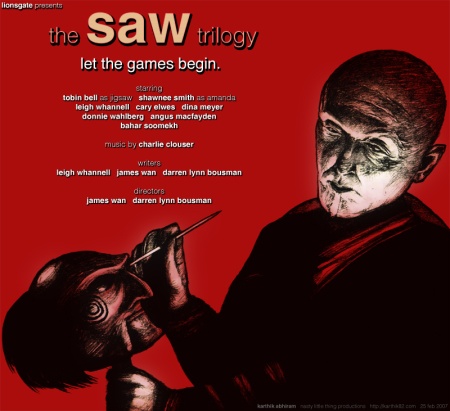 About this drawing
My tribute to the horror-thriller trilogy, Saw! The first film in the series (directed by James Wan, and written by Wan and Leigh Whannell), made on a budget of $1.5 million and shot in just some 17 days, was an intense thrill ride, with a twist at the end that really packed a punch. It was such a huge hit that a sequel was rushed into production, and obviously there was some skepticism about how good it would be. First-time director Darren Lynn Bousman was brought on board, and his script called The Desperate was reworked to become a Saw script. Saw II was released in October 2005, and it was a very well-done film! I liked the sequel just as much as the first, and really appreciated the way the filmmakers attempted to tie this film to the previous one. Needless to say, Saw II was an even bigger hit than its predecessor, and the studio went on to release Saw III one year later, with Bousman returning as director. Another set of thrills were in store for the viewer, but what really made an impression was the way the script tied together several different plot threads from the previous two films. As one reviewer pointed out, an unsuspecting viewer would be fooled into thinking that they planned everything all along!
Without a doubt, the Saw trilogy is one awesome set of movies, remarkable for its well thought-out plots, introducing one of the most unique movie villains, Jigsaw (who places his victims in devious traps that cause death in very messy ways), an unforgettable music score by Charlie Clouser, and one very creepy puppet! This is what inspired me to do this drawing, depicting Jigsaw building the "Billy" puppet.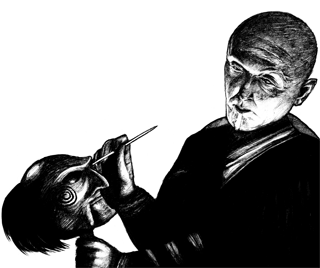 The drawing was done in pencil and black marker (above). I used three reference frames from Saw III for this drawing. The colouring was done in Photoshop. I hadn't really thought of an approach to colouring this piece, but I think what I ended up with is something very different — and I'm quite proud of it! The cast and credits in the final picture list the people involved in the entire trilogy.
Comments for this Drawing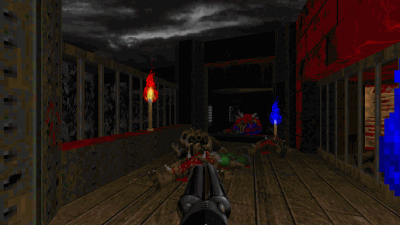 Dark Fate 2 is a singleplayer level for Doom II, replacing MAP01. It's a small-sized hellish level — and there's a walkthrough video as well.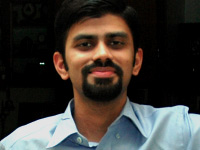 27-year old Taurean (birthday 15-May-82), Assistant Manager - HR at Tata Consultancy Services Ltd in Hyderabad, India. Previously, did Post Graduate Diploma in Management from T A Pai Management Institute (2003-05) and before that, Computer Science Engineering from Sree Nidhi Institute of Science and Technology (1999-2003).
Email: karthik82 -AT- gmail -DOT- com
orkut profile
Facebook profile
YouTube channel
deviantART page
Google Reader Shared Items
Disclaimer: The views expressed on this site are purely my own.
Warning: This site occasionally contains profanity.