From Dusk Till Dawn
Colour pencils on grey paper · 4 May 07
Attention! You are viewing a resized version of this drawing. There is a larger version available, which is of better clarity. Click on the image below to view it.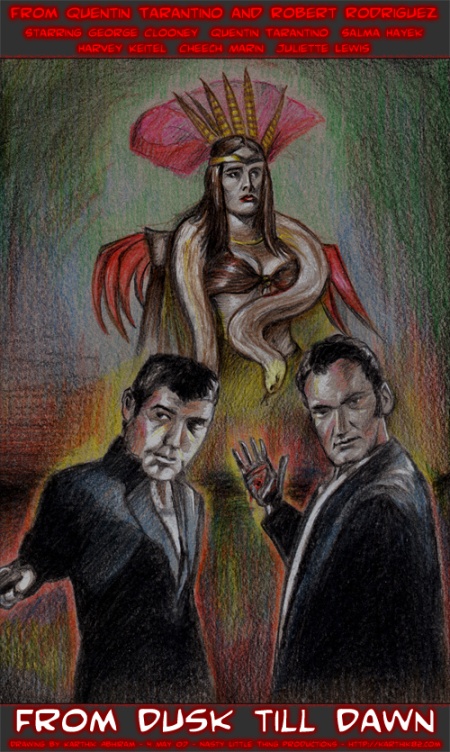 About this drawing
In artist Matt Busch's video tutorial on light and shadow, he draws with white and black colour pencils on grey paper, and shows us how some great effects can be obtained. I was inspired by this video and decided to give it a try myself, and got myself some grey chart paper and a pack of colour pencils.
From Dusk Till Dawn is a movie that I like a lot, because it combines the crime/action genre with the vampire genre beautifully, and has excellent dialogue courtesy Quentin Tarantino, who wrote the script based on Robert Kurtzman's story (apparently, Kurtzman's effects group KNB EFX did the make up effects for Reservoir Dogs for a very low price or something, on the condition that Tarantino would adapt Kurtzman's idea into a screenplay). The movie is directed by Robert Rodriguez, and stars George Clooney and Tarantino himself as the bank-robbing Gecko Brothers, who stop at a Mexican nightclub called the "Titty Twister" one night, only to find it full of vampires. These two, a preacher's family and other survivors in the bar must fend off the creatures until dawn. Salma Hayek plays Santanico Pandemonium, a priestess/vampire in the club.
I've wanted to do a drawing based on this for a long time, so when I got the grey paper and pencils, I decided to go for it. You can see the result above. I am not too happy with the likenesses on this one (Clooney and Tarantino came out okay, though the woman looks nothing like Salma Hayek), but I'm really liking the effects that are possible with these pencils on grey paper. You can represent more light levels this way (shading can be done in black pencil, and highlights can be added in white), which makes for a more interesting picture. I would definitely be using these materials for future drawings!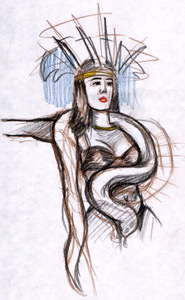 The drawing I did is actually pieced together from a few reference photos from the movie. Clooney is from one photo, and the picture of Tarantino is a mirror image from another photo (as a result of this, I think the bullet hole is actually on the wrong hand in my drawing... but you wouldn't have noticed that unless I told you, right?). Santanico Pandemonium was done from three different images of Salma Hayek. As the snake was in a different position than what I wanted, I actually did a small rough drawing (seen above) to put the elements together.
Comments for this Drawing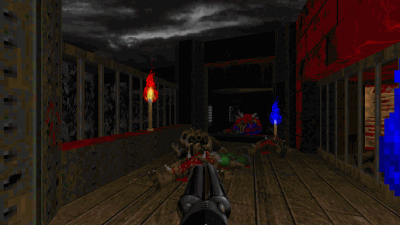 Dark Fate 2 is a singleplayer level for Doom II, replacing MAP01. It's a small-sized hellish level — and there's a walkthrough video as well.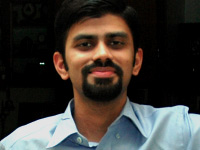 27-year old Taurean (birthday 15-May-82), Assistant Manager - HR at Tata Consultancy Services Ltd in Hyderabad, India. Previously, did Post Graduate Diploma in Management from T A Pai Management Institute (2003-05) and before that, Computer Science Engineering from Sree Nidhi Institute of Science and Technology (1999-2003).
Email: karthik82 -AT- gmail -DOT- com
orkut profile
Facebook profile
YouTube channel
deviantART page
Google Reader Shared Items
Disclaimer: The views expressed on this site are purely my own.
Warning: This site occasionally contains profanity.