Vettaiyaadu Vilaiyaadu
Pencil on paper · 24 Sep 07
Attention! You are viewing a resized version of this drawing. There is a larger version available, which is of better clarity. Click on the image below to view it.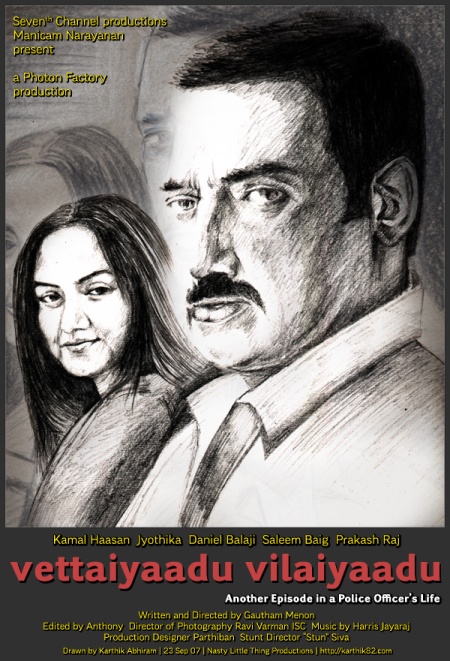 About this drawing
I'd been wanting to do a drawing based on Vettaiyaadu Vilaiyaadu for a while, and I finally got around to doing one. Actually, I did two drawings, one didn't come out well so it was "discarded".
I got some reference images from Indiaglitz.com and put together a mockup image in Photoshop, which showed Kamal Haasan, Jyothika as well as the two villains of the movie, played by Saleem Baig and Daniel Balaji. The idea was to try out a different composition for the picture (the faces would essentially form a curve, roughly in the shape of the letter C, that's how your eyes would travel down the image). I drew this on grey paper with colour pencils, but that did not come out well at all, so that was ditched and I re-drew the picture on white paper with normal pencils, and only had Kamal's and Jyothika's faces in the new one. A little bit of retouching was done to produce the final image, which you see above.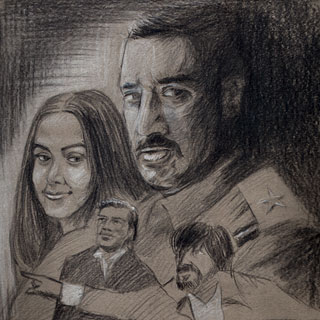 Above is the discarded image in it's entirety, click it for a larger version (I don't know why I am showing people a bad drawing, but anyway...). A part of this image appears as the background in the finished drawing too.
The movie Vettaiyaadu Vilaiyaadu, for those who have not seen it, is about a cop, Raghavan (Kamal Haasan) tracking down two serial killers (Daniel Balaji and Saleem Baig). The investigation takes him from Chennai to Madurai to New York, where he works with NYPD cop Anderson (Lev Gorn). There, he also meets Aradhana (Jyothika), and a relationship begins between the two. This one and writer-director Gautham Menon's earlier police story Kaakha Kaakha are two of my favourite Tamil movies. Vettaiyaadu Vilaiyaadu is a well-filmed and well-acted thriller, and has some nice music and songs by Harris Jayaraj too. It was subsequently dubbed in Telugu and released as Raghavan in 2007.
Comments for this Drawing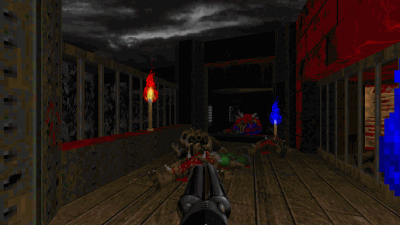 Dark Fate 2 is a singleplayer level for Doom II, replacing MAP01. It's a small-sized hellish level — and there's a walkthrough video as well.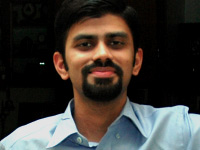 27-year old Taurean (birthday 15-May-82), Assistant Manager - HR at Tata Consultancy Services Ltd in Hyderabad, India. Previously, did Post Graduate Diploma in Management from T A Pai Management Institute (2003-05) and before that, Computer Science Engineering from Sree Nidhi Institute of Science and Technology (1999-2003).
Email: karthik82 -AT- gmail -DOT- com
orkut profile
Facebook profile
YouTube channel
deviantART page
Google Reader Shared Items
Disclaimer: The views expressed on this site are purely my own.
Warning: This site occasionally contains profanity.