The Bourne Ultimatum
Pencil on paper · 14 Oct 07
Attention! You are viewing a resized version of this drawing. There is a larger version available, which is of better clarity. Click on the image below to view it.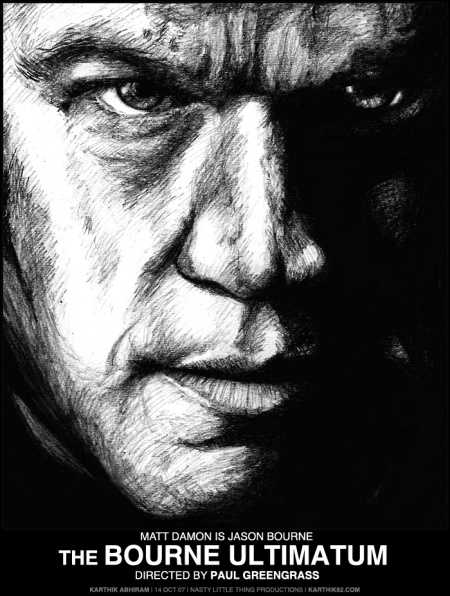 About this drawing
The weekend that I drew this picture, I had watched The Bourne Ultimatum and was very impressed with the movie. I was looking for something to draw for the weekend, and Varun suggested I do a picture of Matt Damon as the lead character from the movie, Jason Bourne. Now the source image suggested for the drawing was one of the posters for the movie, pictured below —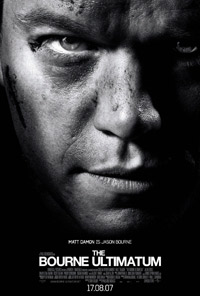 After looking at that, I was hesitant to even attempt drawing it, because the image is a high-resolution close-up photograph of Damon's face. There is a lot of texture and detail in it, and I was not sure I could draw it (you can see the large version here at IMPAwards, and click on the "plus" icon next to the picture to magnify even further). Anyway, I decided to give it a shot, and started with a HB pencil on white paper. I had an interesting time drawing this, as it was nothing but build-up — as with some of my other drawings, I started with rough light lines and gradually built up the level of detail. For this one I even used a 4B and 6B pencil (from a set which I got as a gift), and my trusted 0.5mm mechanical pencil (with 2B lead). It took about two hours to do, if I remember correctly. Anyway, I am very happy with the result you see above. A minimal amount of post-processing was involved here, which was largely boosting contrast and making the blacks darker, and adding the text in Helvetica.

As with my drawing of Milla Jovovich, I took some pictures at different stages of the drawing. You can see that above, click to see a larger image. Once again, the quality isn't very good as it was taken with my cellphone camera, but it's good enough to see what was going on.
The Bourne Ultimatum was an excellent movie. From the previous two entries in the series (The Bourne Identity and The Bourne Supremacy), we saw that Matt Damon's character, Jason Bourne, was a highly-skilled assassin trained by a top-secret (and probably, not so ethical) arm of the CIA, and when he went rogue, they tried to eliminate him. He survived though for two movies, and the third entry is about him seeking answers for what the agency did to him. Of course, the CIA doesn't want their dirty secrets to be exposed, so they're still hunting him down. The movie plays out like a two-hour chase, and is a tight, fast-paced thriller where director Paul Greengrass keeps everything moving constantly — the action, the plot and even the camera (yes, the shaky-cam stuff from the second film is back here, but I didn't find it distracting)! The music (John Powell) is also terrific and it is great to see the song "Extreme Ways" by Moby appear once again during the closing credits in a remixed form. Great stuff.
Comments for this Drawing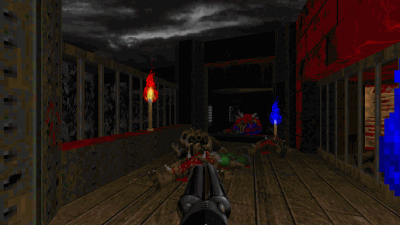 Dark Fate 2 is a singleplayer level for Doom II, replacing MAP01. It's a small-sized hellish level — and there's a walkthrough video as well.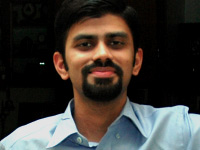 27-year old Taurean (birthday 15-May-82), Assistant Manager - HR at Tata Consultancy Services Ltd in Hyderabad, India. Previously, did Post Graduate Diploma in Management from T A Pai Management Institute (2003-05) and before that, Computer Science Engineering from Sree Nidhi Institute of Science and Technology (1999-2003).
Email: karthik82 -AT- gmail -DOT- com
orkut profile
Facebook profile
YouTube channel
deviantART page
Google Reader Shared Items
Disclaimer: The views expressed on this site are purely my own.
Warning: This site occasionally contains profanity.