Nine Inch Nails — Ghosts I-IV
Ballpoint pen and oil pastels on paper · 9 Mar 08
Attention! You are viewing a resized version of this drawing. There is a larger version available, which is of better clarity. Click on the image below to view it.
About this drawing
In the end of Feb-08, Nine Inch Nails released a set of 36 instrumental tracks to the public, under a Creative Commons license, entitled Ghosts I-IV. The album was something very different, because it was released online and DRM-free, in a variety of formats that could be downloaded. There were other paid options available and a way to purchase the songs on CD. Sometime later (13-Mar-08), the band announced an exciting expansion to the scope of the Ghosts project — a "film festival" on YouTube, where anyone could create a visual accompaniment to the music of Ghosts [the Ghosts group].
I loved the music of the album, and it had obviously inspired me to do a drawing based on it. You can see the drawing above — it shows NIN frontman Trent Reznor (reference taken from one of the "album art" images embedded in the MP3 files of the album) against a colourful backdrop. The base drawing was done with ballpoint pen and the colours were done with oil pastels. I decided to experiment a little with the colours, so used bright eye-catching shades for this. The drawing took me about half an hour to do overall.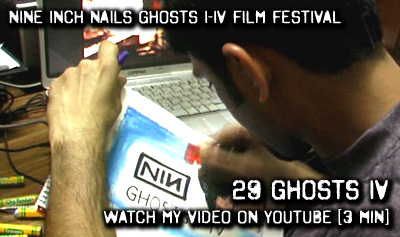 The drawing was done on 9-Mar-08 and I'd filmed myself while making the picture. When the film festival was announced, I edited the footage, sped it up, and matched it to the track "29 Ghosts IV" from the album. My entry to the NIN: Ghosts Film Festival can be viewed here.
With Ghosts, several extras were provided (desktop wallpapers, a PDF with photographs, etc). I wanted to do something similar as well, so created a high resolution desktop wallpaper out of the artwork. And like the official wallpapers provided with the album, there is a standard as well as widescreen version available (they're the same image but the cropping is different). Click on the images above to download your version of choice (each wallpaper is around 1 MB in size).
Comments for this Drawing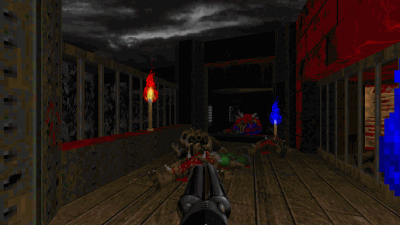 Dark Fate 2 is a singleplayer level for Doom II, replacing MAP01. It's a small-sized hellish level — and there's a walkthrough video as well.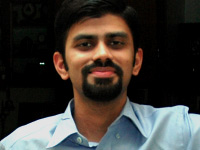 27-year old Taurean (birthday 15-May-82), Assistant Manager - HR at Tata Consultancy Services Ltd in Hyderabad, India. Previously, did Post Graduate Diploma in Management from T A Pai Management Institute (2003-05) and before that, Computer Science Engineering from Sree Nidhi Institute of Science and Technology (1999-2003).
Email: karthik82 -AT- gmail -DOT- com
orkut profile
Facebook profile
YouTube channel
deviantART page
Google Reader Shared Items
Disclaimer: The views expressed on this site are purely my own.
Warning: This site occasionally contains profanity.