Banlieue 13
Pencil, ballpoint pen and oil pastels on paper · 20 Apr 08
Attention! You are viewing a resized version of this drawing. There is a larger version available, which is of better clarity. Click on the image below to view it.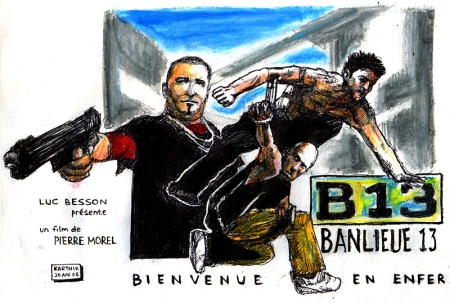 About this drawing
Banlieue 13 (also called District 13 or District B13) is a 2004 French action movie. I watched the movie a couple of years back, and I'm a fan of it. When Casino Royale came out, people were marvelling at the "free running" chase sequence in the beginning of the movie. Well, this movie features a better example of Parkour (check out this scene), and besides, it stars David Belle, who is one of the founders of this sport! The movie is short and packed with excellent stunts (from Belle and co-star Cyril Raffaelli), and has a good story too. Luc Besson had a hand in writing this, and it is directed by Pierre Morel. It has nice techno music by Da Octopuss.
This drawing was done with pencils, ballpoint pen and oil pastels. It shows the three main characters in the movie — from right to left, David Belle as Leito, Cyril Raffaelli as the cop Damien, and Tony D'Amario as the gangster K2.
Comments for this Drawing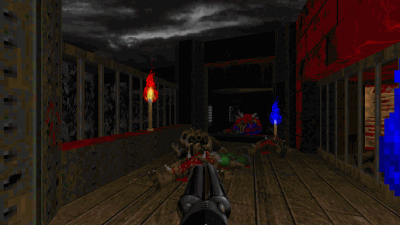 Dark Fate 2 is a singleplayer level for Doom II, replacing MAP01. It's a small-sized hellish level — and there's a walkthrough video as well.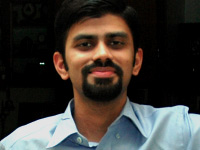 27-year old Taurean (birthday 15-May-82), Assistant Manager - HR at Tata Consultancy Services Ltd in Hyderabad, India. Previously, did Post Graduate Diploma in Management from T A Pai Management Institute (2003-05) and before that, Computer Science Engineering from Sree Nidhi Institute of Science and Technology (1999-2003).
Email: karthik82 -AT- gmail -DOT- com
orkut profile
Facebook profile
YouTube channel
deviantART page
Google Reader Shared Items
Disclaimer: The views expressed on this site are purely my own.
Warning: This site occasionally contains profanity.