Doomsday
Oil pastels on paper · 20 Apr 08
Attention! You are viewing a resized version of this drawing. There is a larger version available, which is of better clarity. Click on the image below to view it.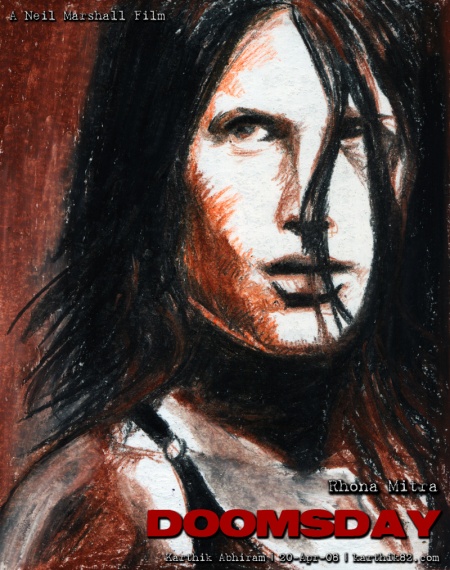 About this drawing
Doomsday is one movie I am waiting to watch. It is directed by Neil Marshall and is a tribute to movies such as Escape from New York, The Road Warrior and 28 Days Later. As I understand it, the story goes like this — there's a viral outbreak in Scotland due to which the whole place is walled off in order to control infection. The spread is controlled — but when the virus reappears 30 years later in England, a team of soldiers is sent in to Scotland (which has become a no-man's land or a land dominated by ruthless gangs now) to find a cure. Rhona Mitra plays the leader of the group, Eden Sinclair. From what I've read the movie is a whole lot of fun, with a lot of bloody and violent action. Really waiting to see it!
In the mean time, I did this picture of Rhona Mitra from the movie. This was done with oil pastels and done quite quickly (I must have spent about 20 or 30 minutes only, on this).
Comments for this Drawing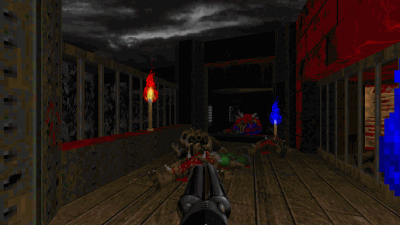 Dark Fate 2 is a singleplayer level for Doom II, replacing MAP01. It's a small-sized hellish level — and there's a walkthrough video as well.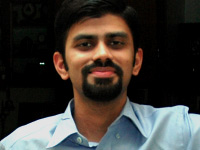 27-year old Taurean (birthday 15-May-82), Assistant Manager - HR at Tata Consultancy Services Ltd in Hyderabad, India. Previously, did Post Graduate Diploma in Management from T A Pai Management Institute (2003-05) and before that, Computer Science Engineering from Sree Nidhi Institute of Science and Technology (1999-2003).
Email: karthik82 -AT- gmail -DOT- com
orkut profile
Facebook profile
YouTube channel
deviantART page
Google Reader Shared Items
Disclaimer: The views expressed on this site are purely my own.
Warning: This site occasionally contains profanity.