The Best Movies of 2008
Ballpoint pen on paper, digital colour · 12 Jan 09
Attention! You are viewing a resized version of this drawing. There is a larger version available, which is of better clarity. Click on the image below to view it.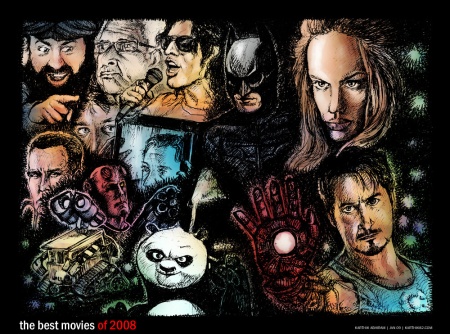 About this drawing
I intended to do a post on my picks of The Best Movies of 2008, like last year (here is the 2007 list). However, this time, rather than doing a simple write-up, I did a drawing instead. Continuing the trend of the "mashup" drawings that I've been doing, this one is also done in the same style, with ballpoint pen and with lots of faces crammed in. Here are the movies represented in this drawing (13 of them) —
The Dark Knight — An incredible, sprawling movie featuring a fantastic performance from Heath Ledger as The Joker. Christopher Nolan's movie for many is the best film of 2008! I watched it in IMAX and loved it. Having this movie on the list is a no-brainer. In the drawing itself, I chose to draw Batman and not the Joker — because I've already drawn Heath Ledger in my Classic Movies drawing.
Iron Man — A very entertaining movie featuring a great performance by Robert Downey Jr as Tony Stark / Iron Man. From the trailers, I didn't expect this movie to be that great, but it was one of the surprises of the year for me. Nice action, good music and great effects.
Kung Fu Panda — Another surprise of the year for me — I knew the movie would be funny and entertaining, but I had no idea it'd be this good! The movie is in my opinion notable because it is genuinely funny, has some very well-timed comedy and has some great action sequences too!
Wanted — An absolutely kick-ass movie! Timur Bekmambetov fills this movie with style and fantastic displays of violence, and there's even some bits reminiscent of Fight Club in there. Oh, and Nine Inch Nails' "Every Day is Exactly the Same" is on the soundtrack.
Slumdog Millionaire — Many people I know feel this movie is overrated (it is essentially a Bollywood-type story), but it is still an excellent movie, and it is the superb cinematography (Anthony Dod Mantle) and direction (Danny Boyle) that puts it on my list. It is worth mentioning that a Danny Boyle movie (Sunshine) was in my Best Movies of 2007 list also. If you're having trouble spotting where this is in the drawing, it's the face above the panda. That's actor Dev Patel from the official poster for the movie.
Rock On!! — Abhishek Kapoor's movie was a pleasant surprise for me. It has nice songs and is beautifully shot. The portrayal of rock stars is maybe a little sugarcoated, but otherwise I think this was one of the best Hindi films I saw in 2008. The drawing features Farhan Akhtar as Aditya Shroff holding a microphone.
Wall•E — What a movie! While Kung Fu Panda was probably the most entertaining animated film of the year, this one is in my opinion the best overall animated movie. The animation is fantastic and I loved the SF themes in the story. The machine "romance" between the central characters (WALL•E and EVE) is beautifully done too.
Hellboy II: The Golden Army — Guillermo Del Toro must be in love with these characters, because there's absolutely no other way such quirky material would work so wonderfully. The movie is funny, has some great effects, has some well-done action scenes, but most of all, I loved the way the characters were handled.
A Wednesday — Neeraj Pandey's efficient thriller has Naseeruddin Shah's bomber holding the city of Mumbai hostage and Anupam Kher's Police Commissioner racing against time to stop him. Very well done.
The Midnight Meat Train — Vinnie Jones as the silent butcher Mahogany is a memorable character in Ryuhei Kitamura's adaptation of the Clive Barker short story. A well-made and effectively bloody horror movie. The drawing features Vinnie Jones (above the picture of WALL•E).
Saw V — Being the fifth in the series, this movie is way better than it has any right to be! It explored the character of Detective Hoffman while cleverly referencing other the movies in the series. Bring on Saw VI, I'm there. In the drawing you have Scott Patterson as Agent Strahm in one of the traps from the movie, where his head is encased in a box with water filling in.
Harold and Kumar Escape from Guantanamo Bay — What was once planned as a direct-to-DVD release went theatrical instead, and this is a nice sequel and a funny movie. My drawing shows Kal Penn as Kumar, in the "terrorist" outfit that a freaked-out elderly passenger sees him in (top left corner).
Dasavathaaram — I saw relatively very few Tamil movies this year, and out of those, Kamal Haasan's Dasavathaaram deserves to be on this list. The movie is entertaining and fun to watch, but the "twist" ending is something atypical for Tamil cinema and quite ingenious. In the drawing, Kamal Haasan's face is glimpsed below Kumar.
So there you have it. 13 picks. Please note — this includes only movies from 2008 that I saw (for example, I haven't seen The Curious Case of Benjamin Button at the time of writing, so though it might deserve to be on the picture, it isn't there. I suppose if you go strictly by quality, you could eliminate some of the movies from this list, but I also considered those that were notable within their respective genres. Anyway, the whole thing is subjective. But even if you don't agree with all my choices, you can still enjoy the drawing!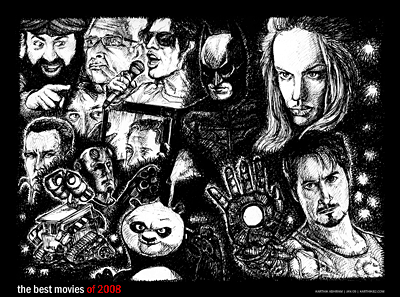 As I mentioned, the drawing was done with ballpoint pen and then coloured in Photoshop. The thing was done between 1 and 12-Jan-09 and coloured on 22-Feb-09. Above is the B&W version of the picture without the colours. I have pasted a print of this, on my office cubicle wall. To go along with this, there is a video that you can watch as well —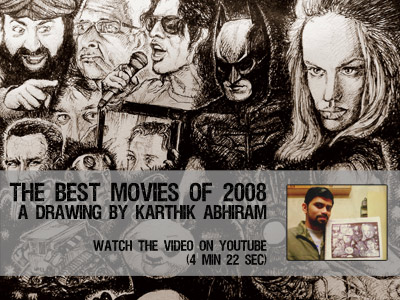 Click on the picture above to view the video. The footage for the video was shot with the webcam on my HP laptop and the camera on my Nokia N82 cellphone, mostly by me. Some shots were filmed by Varun. I edited the footage in Windows Movie Maker, and the music used is the song "Discipline" by Nine Inch Nails, from their album The Slip (which in itself, is a notable 2008 release, as the album can be downloaded for free).
Comments for this Drawing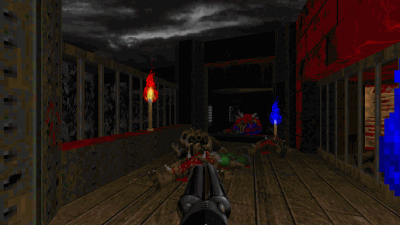 Dark Fate 2 is a singleplayer level for Doom II, replacing MAP01. It's a small-sized hellish level — and there's a walkthrough video as well.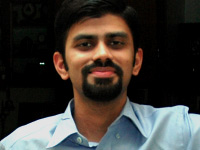 27-year old Taurean (birthday 15-May-82), Assistant Manager - HR at Tata Consultancy Services Ltd in Hyderabad, India. Previously, did Post Graduate Diploma in Management from T A Pai Management Institute (2003-05) and before that, Computer Science Engineering from Sree Nidhi Institute of Science and Technology (1999-2003).
Email: karthik82 -AT- gmail -DOT- com
orkut profile
Facebook profile
YouTube channel
deviantART page
Google Reader Shared Items
Disclaimer: The views expressed on this site are purely my own.
Warning: This site occasionally contains profanity.