Crank 2: High Voltage
Ballpoint pen and marker on paper, digital colour · 21 Feb 09
Attention! You are viewing a resized version of this drawing. There is a larger version available, which is of better clarity. Click on the image below to view it.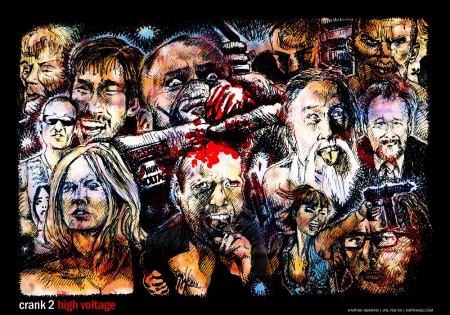 About this drawing
A "mashup" drawing featuring characters from the upcoming movie Crank 2: High Voltage. Crank from 2006 was an entertaining action movie, about a hitman, Chev Chelios (Jason Statham), who must keep his adrenalin level up if he wants to stay alive. The upcoming sequel has Chelios having his heart stolen by some Chinese mobsters, and replaced with an artifical one, which he must keep electrically charged to stay alive! Seems awesome, right? The movie comes from writers/directors Mark Neveldine and Bryan Taylor, and has been rated R for "frenetic strong bloody violence throughout, crude and graphic sexual content, nudity and pervasive language". There were two trailers released for the movie recently — one a "Red Band" (intended for adults only) trailer, and the next one a normal trailer — which really inspired me, so I picked shots from the two trailers and made this drawing.
The drawing was done over the course of some three weekends in January and February of 2009, with a ballpoint pen. I used a thick red marker for the blood spattering in the centre. The rest of the picture was digitally coloured, and this time, I tried something different. After colouring the picture, I put an additional two overlaid layers, with what looks like some dirty blood splashes and an "electric" glare running through the middle. I think it turned out pretty well. Here are the characters shown in the drawing —
Three shots of Jason Statham as Chev Chelios — one at the bottom, the shot where he has electrical cables attached to his chest and tongue; the second one above that, with his heart being taken out; and yet another one to the right of that, with Statham shocking himself by grabbing a transformer.
To the left of the "Statham cluster", you have the old woman Statham rubs against in the trailer (the woman who says "He treated me like his hot little whore!"). Then, the Chinese mobster who has literally stolen Chelios' heart. Below that is Chester Bennington (lead vocalist of Linkin Park) who plays another guy that Chelios rubs against (to generate static electricity), and at the bottom of that is Amy Smart as Eve, who appears in a strip club.
To the right of the Statham cluster, you have the following — at the top right, there's a weird and goofy looking Statham mask (this was done from one of the on-set production photos, I guess this is supposed to be used in a dream sequence or something). Next to that is a small glimpse of an almost-nude Amy Smart (if you've seen the trailers then you know what I am referring to!). Then, there's two faces below that — David Carradine as what looks like a businessman or gangster who has his tongue out; John De Lancie ("Q" from Star Trek!) as a disgusted newscaster (the one who says "An unidentified man is responsible for the explosion of mayhem, murder and lewd behaviour that has swept Los Angeles."). And then, below that is Bai Ling as the woman (called "Ria" I believe, going by what IMDb says) holding two guns. Finally, at the bottom right is Dwight Yoakam as Doc Miles (who has two great lines in the trailer — "They gave you an artificial heart? You gotta keep your body electrically charged — keep that piece o'shit PUMPIN'!" and "If you can get ahold of your heart, I'm reasonably sure I can put it back in!").
I had great fun drawing this and I can't wait to watch the movie. It looks like they (Neveldine/Taylor) took all the stuff that made Crank such an enjoyable ride and took it one step further. There seems to be excessive objectionable material here, and I mean that in a very good way. Apparently, this movie was shot using digital "prosumer" cameras, which allowed the filmmakers to turn this out faster. I hope the movie turns out good!
Below, is the uncoloured version of the picture —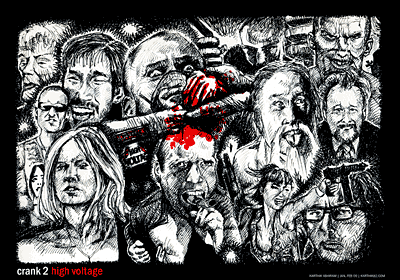 I have shot quite a lot of video footage of the making of this drawing (more than a GB worth), and I will be editing it together into a video soon. I will post that here also, once it's ready.
Comments for this Drawing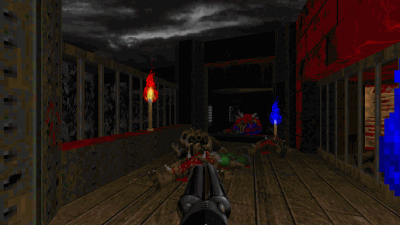 Dark Fate 2 is a singleplayer level for Doom II, replacing MAP01. It's a small-sized hellish level — and there's a walkthrough video as well.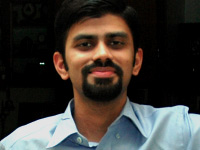 27-year old Taurean (birthday 15-May-82), Assistant Manager - HR at Tata Consultancy Services Ltd in Hyderabad, India. Previously, did Post Graduate Diploma in Management from T A Pai Management Institute (2003-05) and before that, Computer Science Engineering from Sree Nidhi Institute of Science and Technology (1999-2003).
Email: karthik82 -AT- gmail -DOT- com
orkut profile
Facebook profile
YouTube channel
deviantART page
Google Reader Shared Items
Disclaimer: The views expressed on this site are purely my own.
Warning: This site occasionally contains profanity.