Dev.D with Twilight Players
Pencil on paper, digital colour · 8 Mar 09
Attention! You are viewing a resized version of this drawing. There is a larger version available, which is of better clarity. Click on the image below to view it.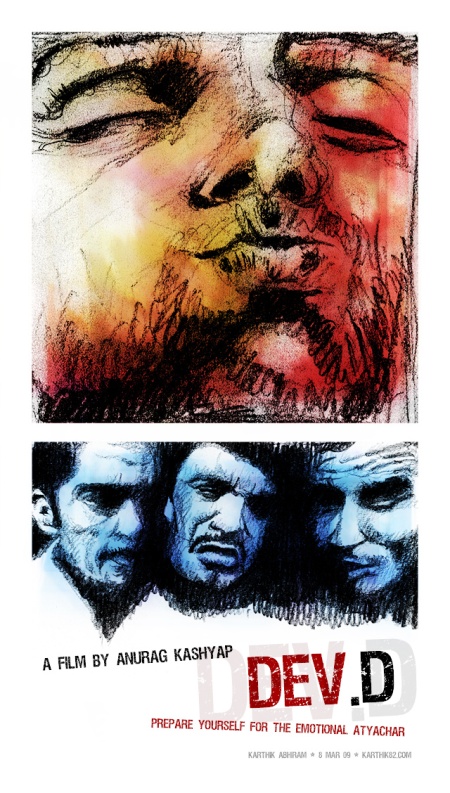 About this drawing
I watched the Anurag Kashyap movie Dev.D in Feb-09 and was very inspired by it — which led me to do this drawing. The movie is a modern "retelling" of the Devdas story, and is very stylishly done. It has Abhay Deol in the title role. Dev is portrayed as a rich, aimless character who takes to a path of self-destruction after losing his sweetheart Paro (Mahie Gill). A large part of the movie depicts Dev drinking, snorting cocaine, and tripping out to the various substances in his system — taking time to stop off in a brothel where he forms a relationship with Chanda (Kalki Koechlin). I loved the way the whole movie was put together, the visuals and songs (this is a musical so there are some 18 songs on the soundtrack, a highlight of which is "Emosanal Atyachar") were great. This comes from director Anurag Kashyap who made the excellent and very different No Smoking. The beautiful photography of Dev.D (Rajeev Ravi) deserves to be seen on a big screen, and I will definitely be picking up the DVD of this movie when it comes out (I hope it'll have a good bunch of special features). Anurag Kashyap's next movie Gulaal was released a month or so after this, and I hear that is also excellent.
The drawing is a simple one — it has a close up of Abhay Deol as Dev.D in one of the "tripping out" sequences, and below, are the Twilight Players (a group who perform dances on two of the songs on the soundtrack — "Pardesi" and "Saali Khushi"). It was done in pencil and later coloured on computer.
Comments for this Drawing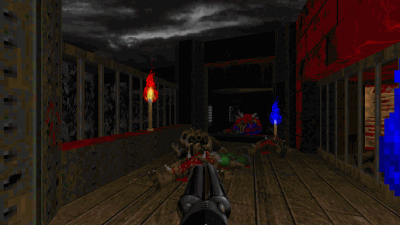 Dark Fate 2 is a singleplayer level for Doom II, replacing MAP01. It's a small-sized hellish level — and there's a walkthrough video as well.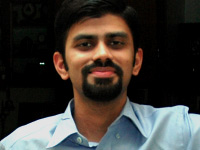 27-year old Taurean (birthday 15-May-82), Assistant Manager - HR at Tata Consultancy Services Ltd in Hyderabad, India. Previously, did Post Graduate Diploma in Management from T A Pai Management Institute (2003-05) and before that, Computer Science Engineering from Sree Nidhi Institute of Science and Technology (1999-2003).
Email: karthik82 -AT- gmail -DOT- com
orkut profile
Facebook profile
YouTube channel
deviantART page
Google Reader Shared Items
Disclaimer: The views expressed on this site are purely my own.
Warning: This site occasionally contains profanity.