Movies List for 2007
Clerks II

(2006)
seen 2 Jan 07 · 10 out of 10
I can see why this got an 8 minute standing ovation when it was screened at the Cannes Film Festival. Wonderful, brilliantly written comedy-drama from Kevin Smith. Dante is going to get married and leave NJ... but how will that impact his best friend, Randal?
The Illusionist

(2006)
seen 3 Jan 07 · 8 out of 10
Gorgeous looking film with Edward Norton as Eisenheim the Illusionist, who loves a Duchess, but she is about to be wed to the Crown Prince.
Borat: Cultural Learnings of America for Make Benefit Glorious Nation of Kazakhstan

(2006)
seen 3 Jan 07 · 8 out of 10
Very funny and outrageous comedy about Kazakhstani reporter Borat (Sacha Baron Cohen) coming to the US to film a documentary, falling in love with Pamela Anderson and deciding to marry her. It's hard to believe that the filmmakers actually pulled off what they did, though I am not sure how much of the film was staged and how much was spontaneous reaction from the unsuspecting victims on the streets.
Trainspotting

(1996)
seen 7 Jan 07 · 8 out of 10
A bleak yet often funny look at a group of junkies in Scotland. Excellent acting all around and some great dialogues.
Sky Captain and the World of Tomorrow

(2004)
seen 7 Jan 07 · 8 out of 10
Visually gorgeous adventure film set in the 1940s with the robot army of the mysterious Totenkopf invading several places around the world, and it's up to Sky Captain Joe (Jude Law) and reporter Polly Perkins (Gwyneth Paltrow) to save the day.
Taxi

(1998)
seen 8 Jan 07 · 6 out of 10
From Luc Besson, this movie is about a Marseilles cab driver who teams up with a cop to stop a gang of bank robbers who use high-speed Mercedes cars to make their getaways. Not as fun & exciting as I thought it'd be. Perhaps sequels will be better.
Taxi 2

(2000)
seen 10 Jan 07 · 7 out of 10
Entertaining sequel with cabbie Daniel getting involved in a police operation to save a visiting Japanese diplomat.
Taxi 3

(2003)
seen 12 Jan 07 · 6 out of 10
Cabbie Daniel and cop Emilien once again team up to catch a gang of criminals that commit crimes disguised as Santa Claus.
Guru

(2007)
seen 15 Jan 07 · 8 out of 10
Well acted drama from director Mani Ratnam, depicting Gurukanth Desai's (Abhishek Bachchan) rise from villager to businessman.
This Film is Not Yet Rated

(2006)
seen 15 Jan 07 · 8 out of 10
Insightful documentary with lots of informative interviews and behind-the-scenes investigation by filmmaker Kirby Dick, about the ratings system of the MPAA and the filmmakers and films it has impacted. Often very funny.
Thank You for Smoking

(2006)
seen 16 Jan 07 · 8 out of 10
Entertaining comedy about a lobbyist for a cigarette conglomerate, who has the unenviable job of promoting cigarettes when virtually every human interest group is against them! Movie has a terrific cast.
Infernal Affairs

(2002)
seen 17 Jan 07 · 8 out of 10
The original Chinese thriller that was remade as The Departed. Classy movie, very well done.
Goodfellas

(1990)
seen 20 Jan 07 · 8 out of 10
Effective portrayal of the life of a gangster from director Martin Scorsese, adapting a book by Nicholas Pileggi. Very nicely acted.
Day Watch (Dnevnoy Dozor)

(2006)
seen 21 Jan 07 · 8 out of 10
Sequel to Night Watch continues the story, with the forces of darkness trying to spark off a war between the "light" Others and the "dark" Others. I can't claim to understand it 100% but it is certainly extremely imaginative and very stylish and entertaining.
The Prestige

(2006)
seen 27 Jan 07 · 8 out of 10
Great movie from director Christopher Nolan, with fantastic acting from the two leads, Hugh Jackman and Christian Bale, as magicians involved in a bitter rivalry.
Murder on the Orient Express

(1974)
seen 3 Feb 07 · 7 out of 10
Agatha Christie's Hercule Poirot is on a train with a diverse group of passengers, and when the train is halted due to snow one night, a murder takes place, and Poirot must solve it. Well done.
Hanuman

(2006)
seen 7 Feb 07 · 4 out of 10
Shoddy animation and a bad script ruin what might have been a great, dramatic adventure.
Cape Fear

(1991)
seen 10 Feb 07 · 8 out of 10
Intense thriller with ex-con Max Cady (Robert De Niro) stalking and terrorising Sam Bowden (Nick Nolte) and his family. Sam suppressed evidence in Cady's rape trial that got him 14 years in prison — and now Cady wants revenge. Well done.
Fritz the Cat

(1972)
seen 11 Feb 07 · 7 out of 10
The 1960s counterculture is explored through the character of Fritz the Cat in this X-rated animated comedy/satire, which is well done and has a great soundtrack. Quite weird though.
The Butterfly Effect 2

(2006)
seen 14 Feb 07 · 7 out of 10
The movie was better than I expected, but still not great compared to the first.
Smokin' Aces

(2007)
seen 16 Feb 07 · 7 out of 10
Stylish, fast action movie from writer-director Joe Carnahan, about a bunch of hitmen who want to kill Las Vegas showman/snitch Buddy "Aces" Israel, and the FBI agents who arrive at his hideout (a suite at the Nomad Hotel at Las Vegas) to keep him alive.
Monty Python and the Holy Grail

(1975)
seen 18 Feb 07 · 8 out of 10
"Fetchez la vache!" Excellent comedy about King Arthur and his knights, and their quest for the Holy Grail.
Escape from L A

(1996)
seen 18 Feb 07 · 6 out of 10
Snake Plissken (Kurt Russell) is sent into L A to retrieve a "black box" containing a doomsday device. A rehash of the original, pretty entertaining movie, but brings nothing much new. Some bad CG also in here.
Cashback

(2003)
seen 18 Feb 07 · 8 out of 10
A short film from director Sean Ellis, about supermarket clerks working the night shift. Amusing and beautifully photographed.
Scanners

(1981)
seen 18 Feb 07 · 8 out of 10
David Cronenberg's SF film about a "war" between people with telepathic abilities called scanners. Typical of Cronenberg, this movie is far from the usual fare and is brimming with interesting ideas.
Children of Men

(2006)
seen 21 Feb 07 · 8 out of 10
London, 2027 — in a future where women are infertile, no children have been born for 18 years. A former activist, Theo (Clive Owen) must escort Kee, a pregnant woman, to safety. An amazing technical achievement, this also features a fantastic performance from Owen. (Seen 1:30 AM to 3:30 AM).
Jackass: The Movie

(2002)
seen 25 Feb 07 · 8 out of 10
Outrageous, gross-out stunts performed by a group of true "jackasses" — some are laugh-out-loud hilarious, some will make you cringe! Entertaining nonetheless. I watched this and the sequel back-to-back, from about midnight till 3 AM.
Jackass Number Two

(2006)
seen 25 Feb 07 · 8 out of 10
I watched Jackass: The Movie and this back-to-back between midnight and 3 AM... the sequel succeeded in grossing me out even more than the first one did... hard to believe some of the stuff that is shown on-screen! This was the unrated version that I saw.
The Covenant

(2006)
seen 2 Mar 07 · 6 out of 10
Good looking but overall average timewaster about a group of male witches.
The Big Lebowski

(1998)
seen 3 Mar 07 · 8 out of 10
Saw this one on TV long back but that was a censored version. This time I saw the complete film and I really enjoyed it.
The Fast and the Furious

(2001)
seen 9 Mar 07 · 6 out of 10
Undercover cop infiltrates a street racing gang to find out who's behind robberies where high-speed cars are used. Not bad, but not as exciting as I thought it would be.
The Texas Chainsaw Massacre

(2003)
seen 10 Mar 07 · 8 out of 10
The Marcus Nispel directed 2003 remake of The Texas Chainsaw Massacre is a beautifully photographed horror-thriller about a psychopathic family that committed several murders in 1973. The last third of the movie is where the tension kicks in, and that is really impressive.
13 Tzameti

(2006)
seen 26 Mar 07 · 7 out of 10
Interesting thriller about a young man who follows instructions in an envelope, only to find himself involved with a mysterious ring of people who play games with others' lives. Shot in black and white.
Rain Man

(1988)
seen 29 Mar 07 · 9 out of 10
Wonderfully acted movie about a young businessman Charlie Babbitt (Tom Cruise) who ends up on a road trip with his autistic brother Raymond (Dustin Hoffman) and develops a bond with him. Seen at TCS-BFS SC Auditorium, however I missed the first 15 minutes.
The Number 23

(2007)
seen 1 Apr 07 · 8 out of 10
Very nicely photographed, atmospheric thriller about a man who becomes obsessed with the number 23 after reading a book that seems to mirror his own life. Seen 00:30 AM to 2 AM.
TMNT

(2007)
seen 1 Apr 07 · 8 out of 10
Leonardo has been in Central America for more than a year, training to become a better leader, while life is not good for the other TMNT. When industrialist Max Winters sends out stone statues to acquire 13 monsters, apparently preparing for something big, the TMNT have to save the day. The animation is excellent, the music, characterisations and action scenes really make this one a blast to watch. Superb stuff.
The Fountain

(2006)
seen 1 Apr 07 · 9 out of 10
Stunning, gorgeous film with three parallel storylines — a scientist, Tommy (Hugh Jackman) tries to find a cure for his terminally-ill wife Izzi (Rachel Weisz), a Spanish conquistador (Jackman) is on a quest to find the tree of life for his queen (Weisz), and in a surreal reality, a bald man encapsulated in a bubble with a tree is floating upwards to Xibalba, a nebula that is believed to give life. This is a film that leaves much to interpretation, and I obviously couldn't understand everything at first viewing, but it is an amazing film.
300

(2007)
seen 6 Apr 07 · 9 out of 10
Seen at Sathyam Cinemas, first day, second show. Awesome stuff. King Leonidas leads the 300 Spartans against the thousand nations of the Persian Empire in this spectacular adaptation of the book by Frank Miller and Lynn Varley, by director Zack Snyder.
The Road Warrior (a.k.a. Mad Max 2)

(1981)
seen 6 Apr 07 · 8 out of 10
Well-photographed post-apocalyptic tale of Max helping out a group of people who have a supply of fuel, hence becoming the target of gangs led by the Humungus and Wez.
Mad Max Beyond Thunderdome

(1985)
seen 7 Apr 07 · 8 out of 10
Big-budget SF fantasy film with Max (Mel Gibson) as the loner who is exiled to the desert from Bartertown and runs into a group of orphans that he has to save. Extremely imaginative.
2010

(1984)
seen 8 Apr 07 · 8 out of 10
Worthy sequel to 2001: A Space Odyssey, about a joint mission between the US and the Soviet Union to Jupiter to find out what happened to the U S S Discovery.
Hellboy Animated: Blood and Iron

(2007)
seen 8 Apr 07 · 8 out of 10
Far superior to the first Hellboy Animated feature, this is a dark, scary horror film about Hellboy and the other BPRD agents facing Erzebet Ondrushko, a very powerful vampire. Excellent.
Deja Vu

(2007)
seen 10 Apr 07 · 8 out of 10
Exciting SF-thriller from Tony Scott about ATF agent Doug Carlin (Denzel Washington) investigating an explosion that kills more than 500 people.
Grindhouse

(2007)
seen 13 Apr 07 · 9 out of 10
Two grindhouse-style films shown back to back with fake trailers in between... Robert Rodriguez's Planet Terror is a nonstop thrill and gore packed ride, while Quentin Tarantino's Death Proof takes time to get where it's going, but once it's there (the car chase scenes), is quite exciting. Awesomeness all around!
Krishna Cottage

(2004)
seen 16 Apr 07 · 6 out of 10
OK horror movie about a group of college-going kids around whom creepy stuff starts happening. Standard boo-scares aplenty, not all of them work. But it's not all that bad, there are worse ways to spend two hours.
One Hour Photo

(2002)
seen 21 Apr 07 · 7 out of 10
Gorgeously photographed (Jeff Cronenweth) film from director/writer Mark Romanek is about a lonely clerk at a photo developing outlet who becomes obsessed with a family through years of developing their family photos. A drama/thriller with an excellent performance by Robin Williams.
The Gingerdead Man

(2005)
seen 23 Apr 07 · 4 out of 10
Cheap movie about a gingerbread man possessed with the soul of a killer terrorising a group of people in a bakery. Low-budget trash. Watched from 2 AM - 3:20 AM.
Unnale Unnale

(2007)
seen 27 Apr 07 · 6 out of 10
Passable love/romance drama. Music is awesome though.
The 36th Chamber of Shaolin

(1978)
seen 30 Apr 07 · 7 out of 10
I bought the DVD of this movie and watched from 2 AM till 4 AM. San Te (Gordon Liu) is a rebel against the Manchus, and when the Manchus kill his father he joins the Shaolin temple and builds his kung fu skills, gradually crossing chamber after chamber in the temple. Entertaining stuff.
Starship Troopers 2: Hero of the Federation

(2004)
seen 1 May 07 · 7 out of 10
Direct-to-DVD sequel with a group of grunts trapped in an abandoned outpost — only to discover that some amongst them have been taken over by a new breed of bug. Low budget doesn't allow the film to have large scale battles but a more murky, claustrophobic atmosphere is present, and to his credit director Phil Tippett throws in quite a bit of icky gore in the second half.
Spider-Man 3

(2007)
seen 5 May 07 · 8 out of 10
Just when life is starting to look up for Peter Parker, villain the Sandman shows up, and so does an alien symbiote called Venom to cause trouble. Awesome visual effects. Seen at Sangeet theatre.
The Good, The Bad and The Ugly

(1967)
seen 18 May 07 · 9 out of 10
Awesome movie about the titular three characters looking for a hidden cache of gold worth $200,000. Grand in scope and style, this is a true classic that I should have seen much earlier, but I'm glad I saw it on DVD in a proper widescreen presentation.
Chennai 600028

(2007)
seen 21 May 07 · 7 out of 10
Fun movie about two rival cricket teams that want to win in a high-stakes tournament.
Pokiri

(2006)
seen 31 May 07 · 6 out of 10
Telugu version seen on DVD - entertaining movie, but a bit long.
A Few Good Men

(1992)
seen 1 Jun 07 · 9 out of 10
Crackling courtroom drama with excellent acting.
Dead Silence

(2007)
seen 16 Jun 07 · 8 out of 10
Gorgeously shot and very creepy horror film from the creators of Saw, with a young man returning to his home town of Raven's Fair to investigate his wife's murder — which might have been caused by the ghost of a ventriloquist who lost her voice.
Mr Bean's Holiday

(2007)
seen 16 Jun 07 · 6 out of 10
Second big-screen outing with Mr Bean has him going on a holiday to France, inadvertently causing a father to be separated from his son at a railway station. The rest of the movie is about how Bean helps the boy to get reunited with his father. Decent movie, nothing special though.
Sunshine

(2007)
seen 17 Jun 07 · 9 out of 10
An SF thriller about a group of astronauts whose mission is to reignite the sun. Awesome visuals, fantastic music. Great movie.
Hot Fuzz

(2007)
seen 19 Jun 07 · 8 out of 10
Excellent action comedy from the creators of Shaun of the Dead with Simon Pegg as a London supercop who arrives in the small town of Sandford where there is no crime, only to discover that not everything is as peaceful as it seems.
Sivaji

(2007)
seen 23 Jun 07 · 6 out of 10
The movie definitely lived up to the hype, it is super stylish and technically very well done. I enjoyed it, but when it comes to things like story/screenplay and all, there is pretty much nothing to be found here!
1408

(2007)
seen 1 Jul 07 · 8 out of 10
Scary, well-shot movie about a writer who specialises in the paranormal, checking into room 1408 of the Dolphin Hotel, and encountering evil there. Great acting by John Cusack, who carries the film.
Die Hard 4.0 (a.k.a. Live Free or Die Hard)

(2007)
seen 15 Jul 07 · 8 out of 10
Saw at PVR Cinemas, very entertaining movie with some awesome action sequences. Better than I thought it'd be, enjoyed Kevin Smith's appearance as well.
Zodiac

(2007)
seen 22 Jul 07 · 9 out of 10
Detailed, meticulous look at the police investigation into the Zodiac serial killings, spanning close to 40 years. Excellent.
28 Weeks Later

(2007)
seen 26 Jul 07 · 8 out of 10
Great sequel to 28 Days Later has the Rage virus reappearing in Britain after 6 months of quarantine and military unit patrolling of the area.
Stone Cold

(1991)
seen 29 Jul 07 · 7 out of 10
Entertaining action movie about a cop who goes undercover as a biker, with an aim to bring down a vicious gang.
Rush Hour 3

(2007)
seen 12 Aug 07 · 7 out of 10
Had a lot of fun. A forgettable story (something about Chan and Tucker going to Paris to protect a woman who may have a list of all the bosses of the Chinese Triads), but lots of jokes and a fast pace.
Transformers

(2007)
seen 18 Aug 07 · 6 out of 10
Big budget SF action film with lots of things blowing up and incredible visual effects, but take away all that and there's not much of a movie. I had a reasonably good time though and the best part was listening to Linkin Park's "What I've Done" at the end credits.
The Simpsons Movie

(2007)
seen 25 Aug 07 · 8 out of 10
I'd seen most of the movie a couple of weeks earlier, completed on 25-Aug. Very funny movie.
Ek Chalis Ki Last Local

(2007)
seen 3 Sep 07 · 7 out of 10
A black comedy with a wild sense of humour — a young man misses his 1:40 AM train one night, and in the 2.5 hours that pass between then and the next train, gets mixed up with a woman, some gangsters and some very weird individuals, and manages to get a lot of money in the bargain.
Gharshana

(2004)
seen 5 Sep 07 · 7 out of 10
Bought DVD and watched over the course of 3 days. Inferior remake of Kaakha Kaakha. Must have been rushed into production and must have had a lower budget, and there must have been some interference from producers too in the way certain scenes were shot, all of which diminish the impact of the movie. Venkatesh's acting can't compare to Surya's as well.
Halloween

(2007)
seen 8 Sep 07 · 7 out of 10
Rob Zombie's remake of the movie. The early scenes, showing how Michael Myers became evil worked the best in my opinion. [WP]
Shooter

(2007)
seen 9 Sep 07 · 7 out of 10
Efficient action thriller about sniper Mark Wahlberg being set up for an assassination, and retaliating against the culprits.
Vacancy

(2007)
seen 19 Sep 07 · 8 out of 10
Taut suspense thriller about a couple who stay overnight at a motel, only to discover that there are attackers who like to kill people there and film the attacks. Watched between 2 AM and 3:30 AM.
Masters of Horror: "Fair-Haired Child"

(2005)
seen 21 Sep 07 · 7 out of 10
Creepy story about a girl who is kidnapped by a couple and locked in a basement, where she meets a young mute boy. There is writing on the walls that says to beware the fair-haired child... Directed by William Malone. Watched: 12:30 AM to 1:30 AM.
Masters of Horror: "Sick Girl"

(2005)
seen 21 Sep 07 · 8 out of 10
Very different story about a female scientist who falls in love with an attractive young girl, only to have a strange insect threaten that relationship. Directed by Lucky McKee. Watched: 1:30 AM to 2:30 AM.
Masters of Horror: "Pick Me Up"

(2005)
seen 21 Sep 07 · 7 out of 10
A tourbus breaks down near the woods and the travellers go off in different directions, and are menaced by two (or more?) killers. Directed by Larry Cohen. Watched: from 2:30 AM to 3:30 AM.
Sholay

(1975)
seen 21 Sep 07 · 8 out of 10
Finally got to see this on VCD, watched discs 1 and 2 a few days before, completed disc 3 now. Very well done movie, the best elements are the acting, characterisation and the photography.
Death Proof (Extended)

(2007)
seen 22 Sep 07 · 9 out of 10
Appreciated this one better the second time around! The story concerns Stuntman Mike (Kurt Russell) who is a slasher — but he uses his car to kill people.
Chak De! India

(2007)
seen 22 Sep 07 · 10 out of 10
Very well done movie from director Shimit Amin about Kabir Khan (Shah Rukh Khan) coaching the Indian Women's Hockey Team to win the World Championship.
They Live

(1988)
seen 24 Sep 07 · 7 out of 10
Aliens live among us, keeping us pacified through subliminal messages and TV signals that keep us unaware of their existence. When a homeless man obtains a pair of glasses that lets him see the world as it is, there'll be hell to pay. Satirical fun, very imaginative John Carpenter movie.
Prince of Darkness

(1987)
seen 25 Sep 07 · 10 out of 10
Wow what an amazing film! A canister of swirling green liquid is discovered in the basement of an abandoned church, which might be the essence of the Devil, an extradimensional entity. A team of scientists is called in to investigate, and the demonic influence captures them one by one. Awesome movie, a blend of physics SF and haunted-house horror from John Carpenter. Watched between 2 AM and 3:30 AM.
Planet Terror (Extended)

(2007)
seen 30 Sep 07 · 9 out of 10
Watched the extended cut after having seen the earlier version 3 times. Great fun.
Unknown

(2006)
seen 3 Oct 07 · 6 out of 10
A group of strangers wake up in a warehouse with no recollection of who they are. They soon realise that two of them may be kidnapped, and the others may be part of the kidnappers' gang, but must work together to escape. The rest of the gang would arrive in the warehouse by sundown. Well acted thriller but I didn't think it was exceptional.
War

(2007)
seen 9 Oct 07 · 7 out of 10
Watched between 1 and 3 AM. Jet Li plays a mysterious assassin called Rogue, who appears to be playing both the Triads and the Yakuza against each other, and has FBI agent Crawford (Jason Statham) tracking him down. Good action scenes and an unexpectedly twisty story set this apart from the standard action thriller of its kind.
The Bourne Ultimatum

(2007)
seen 13 Oct 07 · 9 out of 10
Man what a movie! It's a two-hour chase with Jason Bourne searching for answers on the beginnings of the Treadstone project and his involvement in something called Operation Blackbriar. Awesome acting, music, direction.
Dark Star

(1974)
seen 21 Oct 07 · 7 out of 10
John Carpenter's first film is a science-fiction black comedy about a group of astronauts aboard the Dark Star, a ship with a mission to blow up planets. Some very imaginative ideas done on a very low budget.
The Final Cut

(2004)
seen 26 Oct 07 · 7 out of 10
Watched the first half a couple of days before, finished watching today. Interesting concept SF film with Robin Williams as a "cutter", a person who puts together edited footage of people's memories after they're dead.
Wrong Turn 2: Dead End

(2007)
seen 28 Oct 07 · 8 out of 10
A direct-to-DVD sequel done right! A group of reality show contestants find themselves stranded in the woods, with the cannibalistic mutated inbreds hungry for their blood and flesh. An energetic, fun, gore filled ride, not for the squeamish.
Rear Window

(1954)
seen 31 Oct 07 · 8 out of 10
Alfred Hitchcock's classic about a photojournalist who is stuck at home after a leg injury. Through his window, he is able to look into the houses of all his neighbours, and begins to suspect that one of them is a murderer. Very well built suspense!
Halloween

(1978)
seen 3 Nov 07 · 8 out of 10
I first saw this on TV some 10 years ago but remembered little of it, so rewatched now. The film has great impact and deserves its classic status.
Resident Evil: Extinction

(2007)
seen 3 Nov 07 · 8 out of 10
Superior sequel widens the scope of the T-virus infection to the entire world, and it is up to Alice (Milla Jovovich), Claire Redfield (Ali Larter) and her convoy of survivors to find a place safe from the infection. Meanwhile mad scientist Isaacs (Iain Glen) is pursuing Alice. Stylish and interesting stuff.
Saw IV

(2007)
seen 4 Nov 07 · 7 out of 10
Hmmm... Saw III logically ended the series, so making a fourth entry would have been a difficult task for the filmmakers. To their credit, they continued the story well enough, but it seems that they were desperately picking up plot threads to extend in this movie. They also introduced many questions presumably to be answered in further sequels!
Superbad

(2007)
seen 10 Nov 07 · 8 out of 10
Watched between 2 AM to 4 AM. Very nice comedy with two highschool students wanting to get alcohol for a pre-graduation party.
The Messengers

(2006)
seen 10 Nov 07 · 5 out of 10
Nicely shot movie with some scares, but overall not very effective due to the drama and the story seeming entirely faked. Underwhelming considering that this is directed by the Pang Brothers.
Feast

(2005)
seen 11 Nov 07 · 7 out of 10
Energetic action/horror movie with a group of people stuck in a bar with hungry creatures outside. Gore filled excitement, superbly executed on a low budget. Watched between 1:30 AM and 3 AM.
Suspiria

(1977)
seen 18 Nov 07 · 8 out of 10
Visually splendid story about a girl who enrolls in a German dance academy, realising that it may be run by a coven of witches. The first Argento film I am seeing! Very good.
Trackman (Putevoy Obkhodchik)

(2007)
seen 19 Nov 07 · 6 out of 10
Seen from 1 AM to 2:30 AM. A group of bank robbers take hostages and make their way into a network of abandoned tunnels below Moscow, to escape... but now have to deal with the Trackman, a hulking killer who likes to remove the eyes off his victims. Sounds like a great premise but the execution is not at all good. Disappointing stuff.
Shoot 'Em Up

(2007)
seen 22 Nov 07 · 9 out of 10
Over the top action movie with a dark sense of humour and a bizarre plot, about the mysterious Mr Smith (Clive Owen) who teams up with a prostitute (Monica Bellucci) to keep a newborn baby safe from an assassin (Paul Giamatti) and his gang who want to kill the baby for some reason. Great fun!
I Am Omega

(2007)
seen 23 Nov 07 · 6 out of 10
Watched between 1:30 AM and 3 AM. For a straight-to-DVD low budget release the film looks pretty good and has decent acting and effects, but it isn't very exciting and some of the actions of the characters are questionable. It's an adaptation of the Richard Matheson book "I Am Legend", with Mark Dacascos as a survivor of a virus that has turned most of the world into hideous mutants.
Happy Days

(2007)
seen 24 Nov 07 · 8 out of 10
Sekhar Kammula's movie follows the lives of four Engineering college students and the girls they fall in love with through the four year course. Simple but very nice movie, with great music too. Watched at Prasad's Multiplex.
Johnny Gaddaar

(2007)
seen 25 Nov 07 · 8 out of 10
Crime thriller about five men who organise a deal to make Rs 2.5 cr, and the doublecross that ensues. Nice movie from writer/director Sriram Raghavan. Watched on DVD.
Bride of Re-Animator

(1990)
seen 26 Nov 07 · 7 out of 10
Watched between 2 AM and 3:30 AM. Over the top horror movie about Drs Herbert West and Dan Cain building a woman from reanimated dead body parts.
Athadu

(2005)
seen 27 Nov 07 · 7 out of 10
Entertaining action movie with Mahesh Babu as an assassin Nandu, whose one job goes wrong and leaves him hunted by the cops. On the run, he encounters a man who is returning to his village after 12 years. When that man is shot dead, Nandu assumes his identity. Watched on DVD.
Southland Tales

(2007)
seen 1 Dec 07 · 7 out of 10
Just finished watching this and didn't understand it (even after reading the prequel graphic novels), so going to see Wikipedia now and read about it.
The Ten

(2007)
seen 2 Dec 07 · 6 out of 10
A set of ten short stories based on the Ten Commandments. It's nicely shot but I didn't find the stories all that funny.
30 Days of Night

(2007)
seen 7 Dec 07 · 7 out of 10
Very atmospheric and creepy thriller about vampires invading the town of Barrow, Alaska, during 30 days of night.
Manhunter

(1986)
seen 8 Dec 07 · 6 out of 10
Unevenly paced movie that I am unable to judge properly, having seen Red Dragon (which is a better movie in my opinion) and read the book.
I Am Legend

(2007)
seen 15 Dec 07 · 8 out of 10
Watched at Sangeet Theatre. I think they messed up the movie at the beginning (a couple of minutes was missed out), so that hampered the enjoyment of the movie a little bit. Otherwise a well made movie with Will Smith as the last man on Earth, three years after a virus has wiped out most of the planet's population, leaving a fraction as undead "darkseekers".
Contact

(1997)
seen 20 Dec 07 · 9 out of 10
Watched between 1 AM and 3:30 AM. Excellent SF movie about a SETI astronomer who receives an extraterrestrial signal.
Billa

(2007)
seen 20 Dec 07 · 7 out of 10
Watched at Prasad's Multiplex. A Tamil remake of a remake of Don (1978) with Ajith in the lead role. Closer in spirit to the 2006 Don remake, but a more straightforward story. Stylishly done.
Death Sentence

(2007)
seen 21 Dec 07 · 8 out of 10
Effective, fast paced film from James Wan about a father who targets the gang members who killed his son.
Beowulf

(2007)
seen 22 Dec 07 · 7 out of 10
Watched on IMAX 3D. The effect was awesome and worth watching the movie for that. Set in 507 AD, Denmark, about the warrior Beowulf.
Good Luck Chuck

(2007)
seen 27 Dec 07 · 6 out of 10
Watched between 1:30 AM and 3 AM. Decent enough comedy with Dane Cook as dentist Chuck Logan, who was cursed when he was a kid — as a result of which any woman he falls in love with ends up marrying the next guy she meets! When Chuck actually falls in love with Cam (Jessica Alba), is the relationship doomed?
Go

(2007)
seen 30 Dec 07 · 5 out of 10
A young couple elope and head to Goa and cross paths with the henchmen of a corrupt politician. I saw a trailer for this film in 2006, the movie wasn't released until 2007, and that too had a very short run in theatres. I watched on DVD. Unremarkable.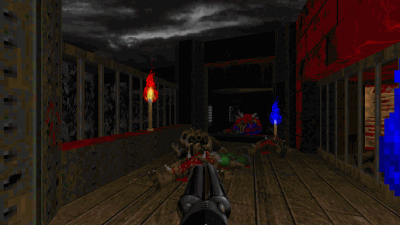 Dark Fate 2 is a singleplayer level for Doom II, replacing MAP01. It's a small-sized hellish level — and there's a walkthrough video as well.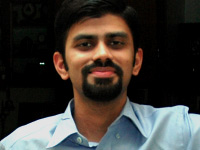 27-year old Taurean (birthday 15-May-82), Assistant Manager - HR at Tata Consultancy Services Ltd in Hyderabad, India. Previously, did Post Graduate Diploma in Management from T A Pai Management Institute (2003-05) and before that, Computer Science Engineering from Sree Nidhi Institute of Science and Technology (1999-2003).
Email: karthik82 -AT- gmail -DOT- com
orkut profile
Facebook profile
YouTube channel
deviantART page
Google Reader Shared Items
Disclaimer: The views expressed on this site are purely my own.
Warning: This site occasionally contains profanity.