I have quite a bit of movie-related news to write about. In the recent past I've only watched a few movies since I was occupied with a lot of other things, but there are a number of interesting upcoming releases that I am awaiting.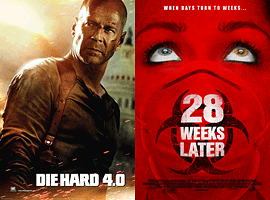 The movies I watched after coming to Hyderabad are —
Die Hard 4.0 — A very enjoyable movie which I watched at PVR Cinemas. Bruce Willis returns as cop John McClane, who has to save the day when terrorist Thomas Gabriel (Timothy Olyphant) begins causing mass chaos by shutting down everything connected to a computer — and since these days, everything is connected to computers, this has major implications. McClane has help from hacker Matt Ferrell (Justin Long), who he saves from an attack by Gabriel's men. Also in the cast are Maggie Q (who plays an evil martial artist henchwoman of Gabriel's!) and Mary Elizabeth Winstead as Lucy McClane, John's daughter. Of course, in a movie like this the story isn't really that important, and Underworld director Len Wiseman stages some very effective action scenes here. I liked the fact that they tried something new in the action sequences. I guess I'll have to see the movie again to ascertain whether I like it as a "true" Die Hard movie, but overall, it was really good. I also enjoyed the short appearance by Kevin Smith, and liked the scenes featuring Cyril Raffaelli (of District 13). 8/10.
Zodiac — This is a David Fincher film, so it is obviously an excellent movie (the man hasn't made a bad film till date in my opinion, in fact even his weakest work would rate atleast an 8/10 for me!). This film is an account of the investigation into the serial murders committed by the "Zodiac" in the 60s and the 70s. The movie is based on true events, and this is an investigation that spanned close to 40 years and to date, remains unsolved. The movie is a detailed look at this complex investigation and has great performances from Jake Gyllenhaal as Robert Graysmith (the San Fransisco Chronicle cartoonist who wrote the book the movie is based on), Mark Ruffalo as Inspector Toschi and Robert Downey Jr as reporter Paul Avery. 9/10.
28 Weeks Later — This is a sequel to Danny Boyle's zombie-inspired 28 Days Later. That movie traced the outbreak of the Rage virus in Britain, which caused mass devastation and turned most of the population into mindless, flesh-craving cannibals. A small group of survivors were pitted against the infected in this film, and they encountered more terror when they finally arrived at a military base. The sequel picks up a parallel story thread, where six months after the outbreak, "District One" is a walled-off, military patrolled area within London, where repopulation is happening and there is a semblance of normal life, that is, until the Rage virus re-appears, and brings chaos once again. I liked this movie better than the first one, as it has a tighter, more focused story and some excellent (and bloody) action/gore sequences. Music by John Murphy was great as well. 8/10.
As for upcoming movies I'm interested to watch, there are lots! Let's have a look at a few of them —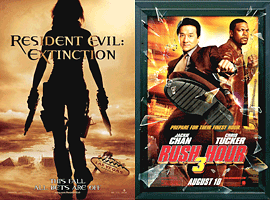 Resident Evil: Extinction — The third in the Resident Evil movie series is directed by Russell Mulcahy and features Milla Jovovich as Alice, battling zombies in the Nevada desert along with a few other survivors. Seems great, and there's a theatrical trailer that was released very recently here, at Yahoo! Movies. I hate the new Yahoo! Movies video playing system though, so didn't get to see the trailer properly.
Rush Hour 3 — Another Part 3, this one is releasing next month itself. Looks to be quite a fun movie to me.
Halloween — August 31 is the release date for this remake of the classic Carpenter film, from writer-director Rob Zombie.
Death Sentence — From James Wan, the director of Saw comes this revenge movie starring Kevin Bacon. Also to be released Aug 31.
30 Days of Night — This adaptation of the comics of writer Steve Niles and artist Ben Templesmith, by director David Slade (Hard Candy) is apparently unrelentingly dead serious and very scary! What better tone to suit a movie about an appearance of vampires in Barrow, Alaska, where it's going to be 30 Days of Night! Looking forward to October!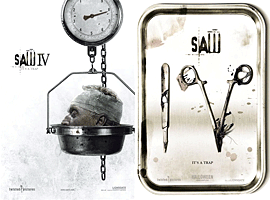 Saw IV — Oct 26 is the release date of this fourth film in the amazing Saw series, and apparently this one just got slapped with an NC-17 rating! Anyway, above you can see small versions of the International poster as well as the San Diego Comic Con '07 exclusive poster for the movie. I love the tagline — "It's a Trap". Directed by Darren Lynn Bousman.
Southland Tales — From Richard Kelly, writer-director of Donnie Darko comes this apocalyptic tale set in 2008. This is going to be released finally in December.
1-18-08 (Cloverfield) — Even the title of this movie remains in mystery, all I know is that this is a movie which is shot handheld-camera style, and features either a huge monster causing destruction, or an alien invasion. Either way, the poster as well as the trailer feature the Statue of Liberty with its head blown off. From producer J J Abrams, to be released in January.
The Dark Knight — Christopher Nolan's sequel to his Batman Begins features Heath Ledger as the Joker, and you can see a teaser trailer here. To be released Summer 2008.
Star Trek XI (Reboot) — J J Abrams again, and he's making the eleventh outing in the big-screen Star Trek series. This is supposedly going to feature a young Captain Kirk and crew. December 2008 is the release date.
Watchmen — The Paul Greengrass version was cancelled a long time ago, and the project is now in the hands of Zack Snyder (300). A test image was revealed some months back, and now casting choices have been finalised for this film. The book's artist Dave Gibbons even did an exclusive poster for the San Diego Comic Con (AICN article), and the website is now active, listing the release date as 6 Mar 2009.
Whew. It's way too late now so I will write the Doom post tomorrow.