Yet another weekend passes by. This time I have not one, but three new drawings you can look at! These are drawings of characters from the movie Grindhouse, and I tried a different style while drawing them. This time, no shading, everything is done using stark black and white. This also means that the finished pieces have smaller filesize and are available at a larger resolution.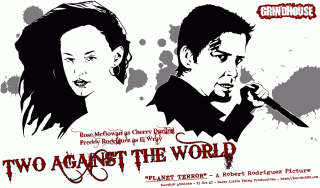 Above is my personal favourite out of the batch of stuff I did this time, called "Two Against the World". Click that to see a large version (very large, I might add – 1360×800 resolution!). These are the pictures I added to the gallery today —
Do have a look at them and post your comments. Apart from this stuff I relaxed during the weekend, watched John Carpenter's Dark Star (nice movie), and this evening met Jayesh and Anirudh (been many months since I met them and it was good to catch up). A few hours from now and I'll be back again in office, the start of another week (ugh, I hate Monday mornings). As always, I hope the week will go by quickly.