I wanted to write about this last week but didn't get around to doing it. Nine Inch Nails released an album called Ghosts I-IV towards the end of Feb-08. There is something unique about it though — the album is released under a Creative Commons License, which means that it is free to distribute. Also, the first volume of nine tracks can be downloaded from the Nine Inch Nails: Ghosts I-IV website. The music is all instrumental stuff and is very good.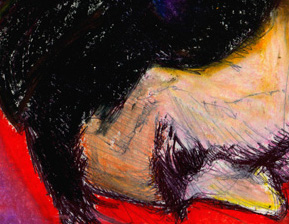 Of course, that inspired me to do a drawing last week. You can click the image above to view the full picture. I also filmed video footage of that. Good thing I didn't edit and upload it last week itself though (I did the Year Zero thing last time), because a couple of days back, the Nine Inch Nails: Ghosts Film Festival was announced by none other than Trent Reznor himself.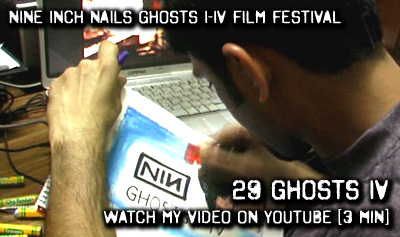 This is an expansion of the Ghosts project, where the band is inviting anyone to create visual accompaniments to the music of the album, and put them up on YouTube. I love the "open source" philosophy behind the album and this film festival, so I completed the video yesterday and entered it into the festival. You can click on the image above to view the video on YouTube.
That's not all. With the Ghosts album, they included several extras (a set of desktop wallpapers, a PDF with photographs, etc). I thought I would give away something too, and so created a high-resolution desktop wallpaper out of my drawing. There's a standard as well as a widescreen version, and both are downloadable from the drawing page linked above.