I experimented with my computer again. Like I mentioned earlier, my hard disk has been giving problems and I reinstalled operating systems a couple of times (Ubuntu, Windows XP and Linux Mint dual boot). Last weekend, myself and Varun had gone to Chennai to visit my cousin. There, the Mint installation started giving trouble, so I wiped the MBR so that only Windows XP was active. However, that started giving trouble too. So this weekend, I planned to get a new hard disk.
But, I was a bit late in contacting a shop so I think the new disk will be bought next week only. In the mean time, I decided to wipe the hard disk, and again install Linux only. Varun is using Fedora 8 for his Final Year Engineering Project, and I decided to try it out too. So last night, I moved any important data off the hard disk, formatted it, and installed Fedora 8.
The Desktop
Having used Ubuntu and Mint, it was no problem for me to get comfortable with Fedora (as someone mentioned, one doesn't actually use an OS, one uses applications).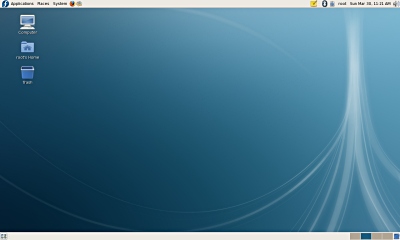 I love the default desktop theme though — it is called "Infinity" and the desktop wallpaper changes colour with the time of day. Above is a screenshot of my desktop at 11 AM.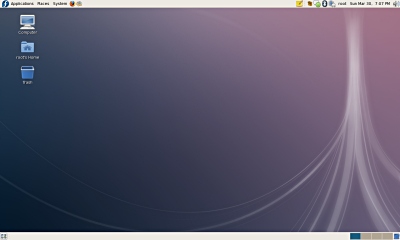 The next shot was taken at around 7 PM. The colour on the right is greyish in the early morning, becomes aqua in the morning, kind of purple in the evening, and as it gets later, becomes darker and more desaturated. Click on the images above for larger versions.
One customisation I made is to decrease the font size a couple of notches. You will also notice that I am logged on as root — I didn't actually create any other users since it's a hassle to go back to a higher-privileged level in order to make system changes. So I'm always the superuser.
A few Fedora 8 Installation Tips
I ran into a couple of hitches while installing, and a bit of Googling solved the problems. I'm documenting them below —
While booting from the install DVD, the system froze up at a point. It'd print out the startup console messages, and when it got to Running /sbin/loader, it'd simply hang. What you have to do to fix this problem is, reboot, and when you get the startup menu, don't simply click on the "Install" option. Press Tab, and you'll see the startup parameters (something like vmlinuz=initrd.img). Just add these parameters immediately after that: floppy.allowed_drive_mask=0 clocksource=acpi_pm and it'll work. As I understand, the system is probing for a floppy drive on my laptop which doesn't actually exist, so it just keeps waiting.
When you reboot the system after installing, it will hang up once more when starting sendmail. The solution to this is pretty simple, just unplug your network cable when starting up. After startup, connect it back and enable your network devices.
I wrote about making DNS settings persistent earlier, under Ubuntu. Here, I couldn't find the dhclient.conf file (maybe I wasn't looking hard enough). So, I simply brought up the network interface and entered the DNS settings correctly, then went to the /etc/resolv.conf file, verified that the correct nameserver IPs were there, and made it read-only!
Another thing I needed was to play DVDs, MP3s, my Xvid files and other media. I wanted to install the trusty and all-powerful VLC media player for this. You just have to enter two commands in a Terminal window as root. First, enter rpm -ivh http://rpm.livna.org/livna-release-8.rpm, and after that, type in yum install vlc and that'll do the trick.
Further Plans...
Once I get the new hard disk, I will initially be making it a dual boot system with Windows XP and Fedora 8. This is because Varun may need to use my computer to demonstrate his project at college. After that is over, I will probably remove Fedora and install the new Ubuntu 8.04, named Hardy Heron (link points to the feature list in the Hardy Beta which was released recently). This will be released on 24-Apr-08 and the features look awesome! The next version of Ubuntu (planned for Oct-08) is called Intrepid Ibex. When they reach K, it'll be interesting to see what they call the release — it's tough to think of adjectives starting with K!