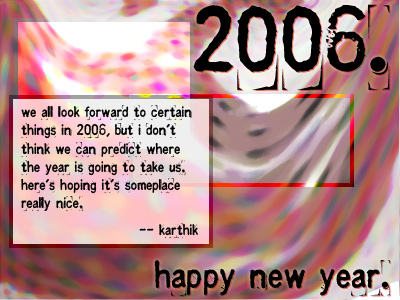 Happy New Year...
to Family and Friends...

to my Parents and my brother Varun,
to all my Friends, Colleagues, old and new —
to everyone at TCS and TAPMI,
to everyone who has visited (and visits) my site...

and to everyone in the Doom Community...
Hope all of you have a terrific 2006!
-- Karthik, 1 January 2006
META.

It is currently 3:38 AM, December 26, 2005 as I type this. And I am at home for Christmas holidays. Due to the limitation of not having ready access to the Internet and to personal email in Chennai (where I currently live), I am unable to keep in contact with a lot of people that I used to interact with before. This is also the reason why I am not able to keep this site as active as I'd like it to be.

Regardless of this, I wasn't going to let 2006 pass by without putting up my personalised New Year Card. So here it is!

Let's see where the future takes us...
The music in the background is a MIDI version of
Feel Good Inc. by Gorillaz.