Prologue...
This year's card does not contain something very much out of the ordinary. Rather, it is a continuation of stuff I was doing last year! You could consider this a "new project" — it consists of a "mashup drawing" featuring The Best Movies of 2008, a write-up to accompany it, and a video that I'm shooting footage for, as I draw the picture. I actually wanted to complete all this and post it along with this card, but there wasn't enough time. So I'll complete this over the weekend. In the mean time, here's wishing everyone a very Happy New Year!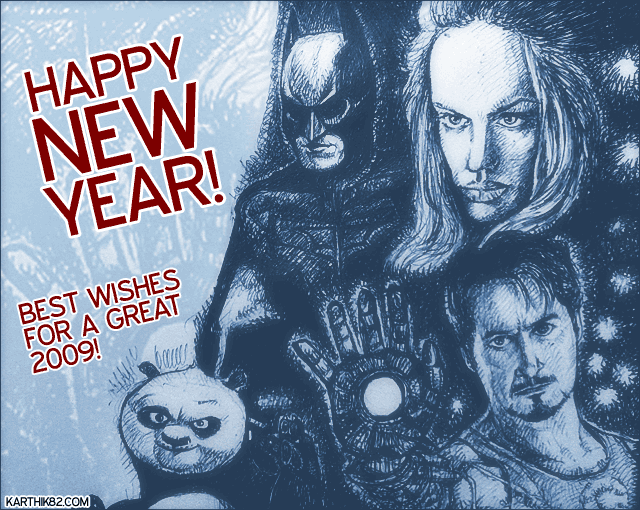 Happy New Year...
to Family and Friends...

to my Parents and my brother Varun,
to all my Friends, Colleagues, old and new —
to everyone who has visited (and visits) my site...
and to everyone in the Doom Community...
Hope all of you have a great 2009!
— Karthik, 1-Jan-09
No background music this time. Have you identified the movies in the picture so far? Keep guessing as to what else I am going to add...
Older New Year Cards: 2008 | 2007 | 2006 | 2005 | 2004 | 2003 | 2002