Campus Recruitment Season has started at TCS Hyderabad, and this Saturday and Sunday I went to Gokaraju Rangaraju Institute of Engineering and Technology as a HR Panelist. Had a very good time — I did 52 interviews totally over the two days. (Overall, around 350 students appeared for the recruitment process and 95 finally got selected). I'll be going to a few other colleges too. Most notably, I've planned to go to my old Engineering College, Sree Nidhi Institute of Science and Technology, in July.
As you might expect, it wasn't just interviews I was doing over these two days. No, I managed to do a few small drawings too. This is what I did on the first day —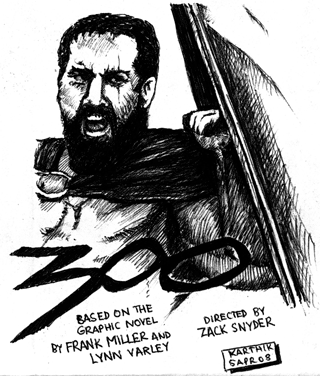 That evening, I watched the movie Cloverfield, which is about a monster attacking New York City and the whole thing being shown from the point of view of a video camera. Inspired by that, I did this drawing the next day —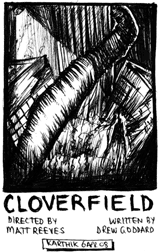 The next drawing I did is simply some random shape. Not "shape" as in Michael Myers, The Shape from Halloween, this is just random shading —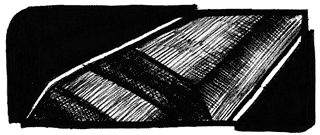 Fortunately, Monday was a holiday and I was able to relax a little. Took that opportunity to throw some colours onto the 300 drawing in GIMP. I used different brush settings this time, and the result is interesting —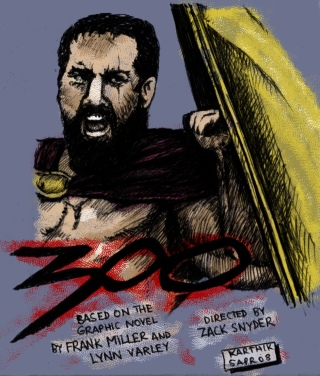 A small note. When I went into our Recruitment Cell that morning, I found that they had one computer running Fedora 6. I tried a "standard" password and was able to log in as root. I bet you'll be able to log in to many computers in office with that password, or variant (no, of course I won't write what it is here)! This type of stuff is the topic of the latest post on our company's internal blog, by Karteek.