Congestion Control 2
Replaces: Doom II, MAP01
File Size: 902 KB
» Download from Karthik82.com «
Download from /idgames Archives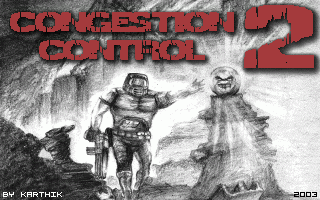 Congestion Control 2 is a single-player level for Doom II. Like it's predecessor, Congestion Control, it features fast paced gameplay and an interesting layout. And, like the original, this one also has a unique, good looking visual style (but different from the original!).
Congestion Control 2 was released on my 21st birthday, 15 May 2003.
Demos
3 June 2003: Brad Spencer sent me a first-try demo of the level, with some nice comments. Thanks, Brad!
Reviews and Comments
1 June 2003: Ismaele has posted his review of Congestion Control 2 at his site, Outpost of Doom II. He has also put up two screenshots showing an unusual occurrence in this level: two archviles fighting against each other!
19 May 2003: Doomworld's 129th edition of The /newstuff Chronicles was posted. The reviews were done by Daniel "Tormentor667" Gimmer. This is the review he gave CCT2:
"It was really a pleasure for me to play this second part of the Congestion Control series - twice. The map design is absolutely amazing and took my breath away and the Final Doom midis fit this outstanding environment perfectly. Although the textures seem to be chosen randomly for a newbie doom eye at the screenshots on Karthik's page, the complete setting of this map looks great if you are really into it and play the masterpiece of work. The ammo balance is great and the monsters have been placed very well and... heh, I don't have to say much more, just play the wad if you don't want to miss a great Doom achievement."
15 May 2003: Several comments at the Doomworld Forums, here.
17 May 2003: This level has also been reviewed on the Doom Wad Station, here (by Eric Buck) and also here (by Kak Home).
15 May 2003: Ismaele was the first to do a review of this level!! I really couldn't believe it when I saw his email on 16th - apparently he had written his review just a few hours after I'd uploaded the WAD!
Congestion Control 2 Screenshots
The screenshots below were taken with Doom Legacy.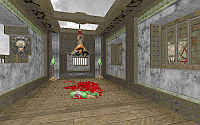 The start area of the level continues from the illustrated story (see below).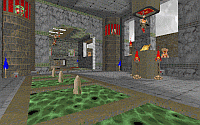 One of the more spacious areas in the level.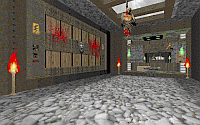 A cool looking blood spattered door.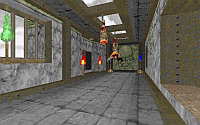 A corridor you will come to later on in the level.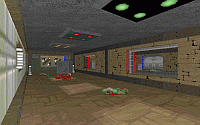 Inside a UAC base.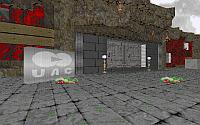 Uh... outside the UAC base!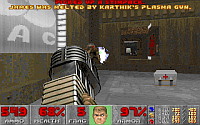 Upto 8 players can deathmatch in CCT2.
Congestion Control 2 Information
For complete, in-depth information about Congestion Control 2, please see this online version of the CCT2 HTML documentation. This file is distributed as cct2-extras.zip within cct2.zip, and it's content is also being posted here so that you can view it.
View the CCT2 HTML documentation
Congestion Control 2 Story

I wanted to do something different with this level, so there is no text story - instead, there's an illustrated version. It's in the format of a one page comic, and it sets the scene for the level to take place. Click the graphic above to see the story (drawn by me). The larger sized drawing is available on my Drawings page. The CCT2 story is also distributed with the level.
Comments for this Doom WAD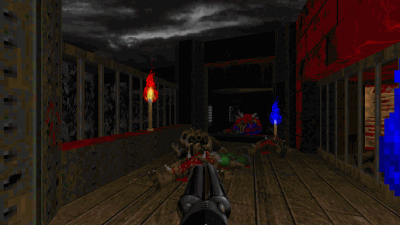 Dark Fate 2 is a singleplayer level for Doom II, replacing MAP01. It's a small-sized hellish level — and there's a walkthrough video as well.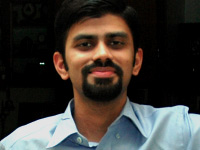 27-year old Taurean (birthday 15-May-82), Assistant Manager - HR at Tata Consultancy Services Ltd in Hyderabad, India. Previously, did Post Graduate Diploma in Management from T A Pai Management Institute (2003-05) and before that, Computer Science Engineering from Sree Nidhi Institute of Science and Technology (1999-2003).
Email: karthik82 -AT- gmail -DOT- com
orkut profile
Facebook profile
YouTube channel
deviantART page
Google Reader Shared Items
Disclaimer: The views expressed on this site are purely my own.
Warning: This site occasionally contains profanity.