The Hazard Variation
Replaces: The Ultimate Doom, E4M1
File Size: 238 KB
[Requires limit-removing port]
» Download from Karthik82.com «
If you're having problems accessing that link, try this one at FileFront.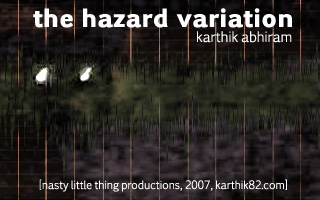 The Hazard Variation is a small level replacing E4M1 of The Ultimate Doom. It is done in Episode 4-style and was intended to be the opening map of the project The Ninth Gate, and is now being released independently.
A History Lesson...
The Ninth Gate was a project that was started in 2001 and was intended to be an Episode 4-replacement for The Ultimate Doom, by Pablo Dictter, Tobias Münch, Damian Lee, Varun Abhiram, and myself, with testing by Joel Murdoch. Due to various reasons the project was never completed, and the 8 (out of 9) levels which were completed, were not released to the public. However, in Aug 2007 it was decided that the maps would be released independently by the authors, so that the work done would not go to waste.
I made three levels for the project overall. Apart from the map initially intended for the E4M3 slot, I made an E4M1 way back in 2001. However, that map was discarded as it was too primitive in design and did not match up to the quality of the other levels. So in 2003, I made a new E4M1, which would have been called First Gate had it appeared in the episode.
That is the level being released now as The Hazard Variation.
Description and Screenshots [now in glorious widescreen!]
This is one map I am very proud of. I think it turned out well in both the looks as well as gameplay departments, and has a tight, fast pace. It's very small, so the focus here was to re-use areas and create some interesting fights. Nothing much more to say, I hope you have fun playing the level. You can play it in any port of your choice, but a limit-removing engine is required.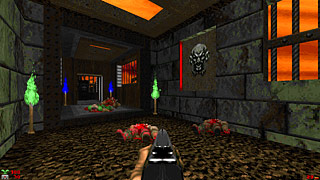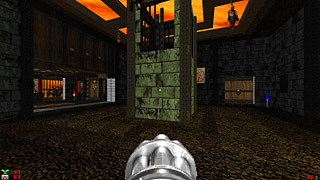 A couple of interesting points — the filesize of the WAD is 666 KB (I do realise there is an approximation involved here, but it is 666 KB as shown by Windows Explorer). The title, is inspired by Goldberg Variations which is a work of music by J S Bach (I had heard the name somewhere and it stuck in my mind... but I didn't recall what it actually was until I looked it up now. I thought it was the name of an SF novel).
Credits
Main level music: "Beginning of an End" by Damian Lee
Title and Intermission music: "Aliens, Say your Prayers!" by Robert Prince, from Duke Nukem 3-D
ZDoom End Text music: "The City Streets" by Robert Prince, from Duke Nukem 3-D
E1M3 music: Heretic E1M3 music by Kevin Schilder [this is not required, but inserted for the purpose of bringing the WAD file's size up to 666 KB!]
Titlepic, Endpic, Credits, Intermission pic: Made by me, using a photograph of a dog that I took!
Other Ninth Gate Levels
Comments for this Doom WAD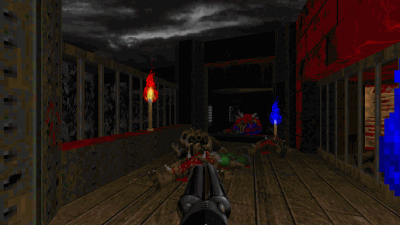 Dark Fate 2 is a singleplayer level for Doom II, replacing MAP01. It's a small-sized hellish level — and there's a walkthrough video as well.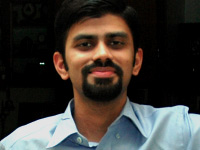 27-year old Taurean (birthday 15-May-82), Assistant Manager - HR at Tata Consultancy Services Ltd in Hyderabad, India. Previously, did Post Graduate Diploma in Management from T A Pai Management Institute (2003-05) and before that, Computer Science Engineering from Sree Nidhi Institute of Science and Technology (1999-2003).
Email: karthik82 -AT- gmail -DOT- com
orkut profile
Facebook profile
YouTube channel
deviantART page
Google Reader Shared Items
Disclaimer: The views expressed on this site are purely my own.
Warning: This site occasionally contains profanity.