Out of Phase 3: One Cloudy Afternoon
Replaces: Doom II, MAP01
File Size: 87.2 KB
» Download from Karthik82.com «
Download from /idgames Archives
Out of Phase 3 is probably one of the fastest levels I have made. Since I made this one in just 2 days (like my first Out of Phase level) this became Part 3 in the series. But it has nothing to do with the other levels in the series other than the name. This time, it's a more classic-Doom II style level (reminds me of Sandy Petersen's style for some reason), mixed with my own style.
Though I made this level quickly, I've not been negligent about anything - there are full skill settings, a new intermission pic, music replacements and also a sky replacement (that's why the level is called One Cloudy Afternoon), made by my brother Varun. The level itself has a high level of detail. I'm pretty proud of this level!
Screenshots
Demos
June 2003: Doom Power used this map for a speedrunning contest. Some awesome demos (20+) have been made on the level, which you can see at the contest page (the page is in Russian, but you can download the demos).
Virgil the Doom Poet has also done a demo for this map (21 Nov. 2002), his time being 4:32.
Varun did demos of this level (16th Nov. 2002). His fastest time is 1:57!
I tried my hand at this map too, my fastest time is 2:42.
Simon Broadhead sent me a Legacy maxdemo on 13th Nov. 2002. His time is 3:53.
Ganeshan also sent me two demos (on skill 1 and 3) on 15th Nov. 2002.
Reviews and Comments
17 June 2003 - Eric Buck reviewed this map at the Doom Wad Station, here.
20 May 2003 - Kak Home sent me this detailed review by email:
Design: The level is very well built for the short amount of time you put into it. It consists of a number of indoor areas, plus some outdoor surroundings. The level is small, but that is not always a bad thing for a level. There is also a good level of detail, especially in the indoor areas. Perhaps just slightly simple, but a good one in the design category. Quite well done.
Design Score: 7.5/10
Gameplay: The gameplay is undoubtedly the best part of this level. There are many very well done puzzles and you never know exactly what is ahead of you. For a small level, this map is very challenging, but the balance is quite well done. This makes the map, despite the small size, feel more medium in size than small. Very fun as well. My only complaint is that it can get slightly confusing at times, but this is a minor complaint and I enjoyed the level very much. Well done.
Gameplay Score: 9/10
Music: The music from "TNT: Evilution" that you used is good. It sets the atmusphere and mood to the level very well. The music is obviously not an original piece of work, so a bit of the score goes off for that, but other than that, I have no problems. Well done.
Music Score: 8/10
Sounds: None; Sounds Score: None
New Textures: None; Texture Score: None
Architecture: Not superb, but still quite good. The level sticks well to a theme, and is a mix of indoor and outdoor. The new sky is a nice overcast looking sky, despite the title "One Cloudy Afternoon", and is well done. The indoor areas have a good level of detail, and pretty good texturing. The outdoor areas are not as good, without all the indoor detail, but they still look OK and have a different style of texturing. Nothing too original in terms of looks, but well done architecture.
Architecture Score: 7.25/10
Overall: A nice map, I recommend that you download it. Nice job.
Overall Score: 78%
16th Nov. 2002 - Ismaele has a short write-up on this level at his site, Outpost of Doom II. It's there on the "Other Levels" section there.
Doomworld /newstuff Chronicles #104 Review by Dean "deathz0r" Joseph
This edition of The /newstuff Chronicles (#104) was posted on 17 Nov. 2002. It featured reviews of 12 WADs, and can be found on this page. My map's review is the last one.
"A small map by Karthik, and a damn good one at that. Very nice detailing job, plus the gameplay has a very strong arcadish feel. Even though the level is occuring during the afternoon, I kinda jumped when I saw the mancubus magicly appear in front of my face without any teleport fog. Also, it may be a bit hard to start the level at first for some, as the revenant that is at the megasphere is a bit annoying, but after you grab the megasphere, it's mostly easy from there. The only problem I had with the level was that it was a bit too short for a single-level wad, but I'm sure someone will disagree with me. He wrote in the text file that you can play a DM game in it. I didn't have the time to test it, though. I give this level a thumbs up."
Comments for this Doom WAD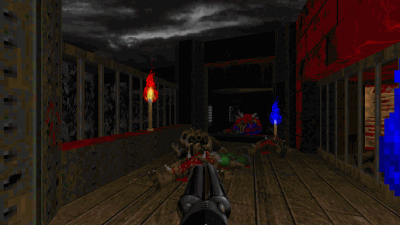 Dark Fate 2 is a singleplayer level for Doom II, replacing MAP01. It's a small-sized hellish level — and there's a walkthrough video as well.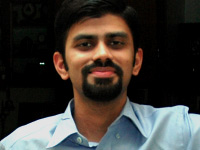 27-year old Taurean (birthday 15-May-82), Assistant Manager - HR at Tata Consultancy Services Ltd in Hyderabad, India. Previously, did Post Graduate Diploma in Management from T A Pai Management Institute (2003-05) and before that, Computer Science Engineering from Sree Nidhi Institute of Science and Technology (1999-2003).
Email: karthik82 -AT- gmail -DOT- com
orkut profile
Facebook profile
YouTube channel
deviantART page
Google Reader Shared Items
Disclaimer: The views expressed on this site are purely my own.
Warning: This site occasionally contains profanity.