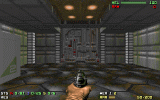 This map takes place in a toxic waste storage facility, and it is an Episode 1 style level. It's a nice mix of open and closed areas, and it is impressively built. It has nice detail and overall, is a lot of fun to play.
The first room you start in, shows some interesting use of textures. In fact, that continues throughout the map - there is a nice blend of the greenish military-base type textures and iron beams - which distinguish it from the other E1-style levels I've seen. And in one place, you get to go outside into a large courtyard where you see the building from outside - this again, uses the textures nicely.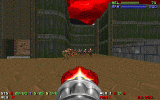 Playability wise, I have to say I liked the map a lot. The enemies here are mostly shotgun guys, imps and demons. None of the bigger monsters anywhere, except for that cacodemon maybe. This again, reminded me of playing Knee-Deep in the Dead and using the shotgun to take down the bad guys! There is enough of health and ammo about. It's a short and fun level and there are no complications.
When I finished playing the map I was surprised to see the level statistics. ("What! Only 16% secrets?"). And then I played it again with Boom and put the heads-up display on and realised that there are 6 secret areas in the level! This is a nice thing because after you finish the level once, the next step is to play it and get 100% secrets. This is a little difficult to do, however, because the secrets are well hidden and there are only slight clues to their location. One of them is very obvious, but the others aren't. I cheated using IDDT, and later opened the map up in an editor to find the secrets!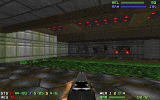 The map has difficulty settings implemented (on skill 1, there are roughly half the monsters as there are on skill 4) well, and I felt the music could have been replaced also (but I suppose that's the author's choice). The only place I felt didn't measure up to the rest of the level was the dark pit with the slime (I thought it was slightly awkward and not as detailed as the rest). Otherwise this was a very entertaining level to play, and it's also not difficult.
According to the text file, the level was built in 1998, along with some of the author's other maps. It later made it's appearance on the author's site The Phobos Wad Lab.
I rate all movies or game add-ons on a scale of 1 to 10 points. 1 is the lowest score, 6 is barely above average, 8 is good, and 10 is excellent (this score doesn't indicate something that is perfect in every way — it just means that I enjoyed it a lot). You'll find that I tend to give ratings of 8 and above often (that's only because I enjoy whatever I'm reviewing!). Reviews are updated as felt necessary. Of course, everything said in these reviews is my humble opinion only.