Saturday was the beginning of a long weekend, and I thought of doing a drawing to start it off. Varun suggested I do a more detailed drawing than the ones I've done recently, and as we'd watched Resident Evil recently, and were awaiting the release of Resident Evil: Extinction in theatres in Hyderabad, this one seemed like a logical choice. So here it is, a drawing of Milla Jovovich as "Alice" in the film adaptation of Resident Evil by writer/director Paul Anderson.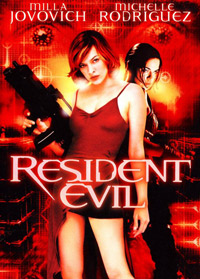 I started off with the poster which you see above. This is one of the DVD covers for the movie, and features Milla Jovovich in her striking red outfit as Alice, the lead heroine. The drawing was done with pencil on white paper. I began with a normal HB pencil and put in a lighter, rough version of the image on the paper. It would seem like scribbling at first glance, but the idea was that I'd keep refining it until the pose seemed right and everything was where it was supposed to be, then I'd erase parts of the image and draw in details with a 0.5mm 2B pencil (I followed this method for my Saw Trilogy drawing too, it seemed to work fine for that).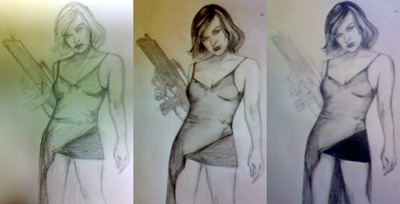 Strangely, the rough picture took a longer time to do, than I thought it would. Don't know whether it was just me, but I suspect whatever Photoshopping was done for the poster, altered details slightly so that it was throwing me off at every stage (do a Google Image Search for "resident evil poster" and you can find a few different versions of this poster art, with varying poses)! Anyway, once I was happy with it, I put in the details, and ended up with a nice black and white pencil version. I am quite happy with this drawing because I think I got a pretty good likeness of Milla. That, you can see below this paragraph, and above is a picture showing off some of the intermediate stages of the drawing. You can click for a bigger version. Apologies for the poor picture quality though, because these were shots taken with my cellphone camera.
The black and white drawing was coloured in Photoshop, giving the result you see above. I'm quite happy with the colouring job I did on this one. By the way, the cool background is just a few brush strokes in Photoshop. A large square brush with the moisture and texture properties set to some arbitrary values was used, and then I sharpened it with a slightly absurdly high value, and then played about with some variations (darker, more red, more saturated) and then blurred it. Then I added the text to it (similar typography was used in my Evil Dead — Master Cylinder Tribute drawing) and there you have it, the finished version!
Ah, but that's not all there is, to this story! Varun also tried his hand at post-processing this drawing. This was an interesting experiment, as both of us started off with the raw scan and then did whatever we wanted. Varun's version has a more comic-book type colouring job, and he actually made a desktop wallpaper out of it.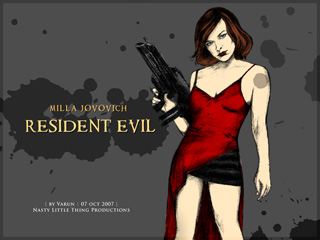 You can click the image above (or this link) to see Varun's blog post about it. It's interesting to compare the two versions, right? Do let us know what you think of the image.
The movie itself, is a very entertaining one, with a slick look given to it thanks to director Anderson. It was followed by Resident Evil: Apocalypse (directed by Alexander Witt) in 2004, which I liked as well (it had quite a lot of story elements to it, but the look wasn't as polished as Anderson's film), and I am looking forward to watching the latest entry, Resident Evil: Extinction, which is set in a zombie-devastated Nevada! One thing about all these films is that they have a strong lead heroine — Milla Jovovich has a good screen presence as Alice.