Halloween II (2009) Fan Poster
Ballpoint pen and markers on paper · 9 Aug 09
Attention! You are viewing a resized version of this drawing. There is a larger version available, which is of better clarity. Click on the image below to view it.
About this drawing
ShockTillYouDrop.com announced a Halloween II Fan Movie Poster Contest towards the end of July. The idea behind this is that one can create a movie poster based on the upcoming Rob Zombie movie Halloween II, and send it to them. The contest ends on Aug 28 (the movie's release date in the US), and at that time Rob Zombie himself would pick out the winning entry, and the creator would receive a print of the poster signed by him.
I was not sure if the contest is open to people outside the US (the site didn't say anything about that), but I thought I'd do something anyway regardless of the result. Rather than Photoshopping together existing movie stills, I did a drawing and used that for my poster design. It is based on screenshots from the trailer and one official still. It features the characters Michael Myers (Tyler Mane), Laurie Strode (Scout Taylor-Compton) and Dr Sam Loomis (Malcolm McDowell). The drawing was done using a black ballpoint pen, a thick red marker, a thin black marker, and a thick black marker that was running out of ink (that helped me get the shading on Myers' jacket). It was done over the course of a couple of weekends (starting in the beginning of August, finishing on 9-Aug-09).
I scanned in the drawing at 600 dpi, and then used a Photoshop document size of 27 inches by 40 inches (the standard US "one-sheet" size) at 200 dpi to create the final poster. The background paper texture is a stock image by Lasse Korsgaard from this pack, and the Halloween II title logo was provided by STYD (though I had to upscale that considerably). The typeface used for the credit block is Franklin Gothic, which seemed to go well with the overall look.
I've uploaded a 1000 pixel-wide image here, though I have a 5400 pixel-wide image with me. I am planning to send the STYD guys a 2000 pixel-wide version after writing this. An interesting thing about this 1000 px version is that Windows reports the filesize as 666 KB.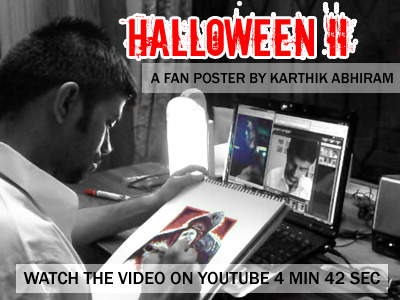 I also recorded video footage while doing the drawing and putting together the poster. I've edited that into a video which I've uploaded on YouTube. You can watch it by clicking here or on the image above. I am pretty proud of the video too. I think I've gotten better at this overall — this video uses more varied shots to make it seem that I had different camera setups, whereas it was just me filming everything with mostly my Nokia N82 cellphone (a couple of shots were filmed with my laptop webcam). The video as usual is shot mostly handheld.
Comments for this Drawing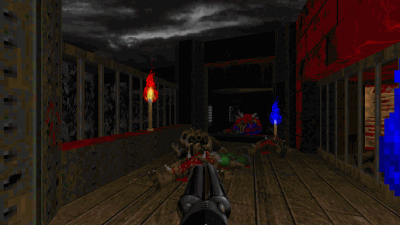 Dark Fate 2 is a singleplayer level for Doom II, replacing MAP01. It's a small-sized hellish level — and there's a walkthrough video as well.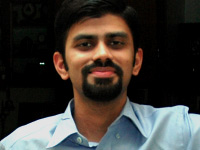 27-year old Taurean (birthday 15-May-82), Assistant Manager - HR at Tata Consultancy Services Ltd in Hyderabad, India. Previously, did Post Graduate Diploma in Management from T A Pai Management Institute (2003-05) and before that, Computer Science Engineering from Sree Nidhi Institute of Science and Technology (1999-2003).
Email: karthik82 -AT- gmail -DOT- com
orkut profile
Facebook profile
YouTube channel
deviantART page
Google Reader Shared Items
Disclaimer: The views expressed on this site are purely my own.
Warning: This site occasionally contains profanity.