Movies List for 2005
Constantine

(2005)
seen 5 Mar 05 · 8 out of 10
Seen on VCD. Well done movie with nice effects and a terrific music score.
The Devil's Rejects

(2005)
seen 14 Aug 05 · 8 out of 10
A gritty, sadistic thriller, well made sequel to House of 1000 Corpses.
A Nightmare on Elm Street Part 2: Freddy's Revenge

(1985)
seen 4 Oct 05 · 5 out of 10
Not a particularly good movie, this one has Freddy menacing a guy who moves into the same house from the events of the first film.
Ghajini

(2005)
seen 16 Oct 05 · 8 out of 10
Entertaining action/romance movie about Surya who after being attacked and his love (Asin) killed, becomes a man who wants revenge, but has a mental disorder that prevents him from remembering anything for more than a few minutes. Although the film rips off the central idea from Memento the overall storyline is different and is a pretty good movie.
Saw II

(2005)
seen 4 Nov 05 · 9 out of 10
Excellent sequel to Saw ups the stakes — we have a group of people breathing in a deadly nerve gas trapped in a house, who must find an exit, while the cops trap Jigsaw in his hideout.
Red Eye

(2005)
seen 9 Nov 05 · 7 out of 10
Plane terror from Wes Craven as hotel manager Rachel McAdams boards a flight only to discover that co-passenger Cillian Murphy is a psycho. Nicely done suspense movie.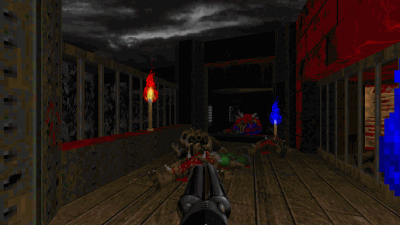 Dark Fate 2 is a singleplayer level for Doom II, replacing MAP01. It's a small-sized hellish level — and there's a walkthrough video as well.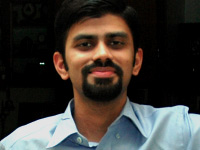 27-year old Taurean (birthday 15-May-82), Assistant Manager - HR at Tata Consultancy Services Ltd in Hyderabad, India. Previously, did Post Graduate Diploma in Management from T A Pai Management Institute (2003-05) and before that, Computer Science Engineering from Sree Nidhi Institute of Science and Technology (1999-2003).
Email: karthik82 -AT- gmail -DOT- com
orkut profile
Facebook profile
YouTube channel
deviantART page
Google Reader Shared Items
Disclaimer: The views expressed on this site are purely my own.
Warning: This site occasionally contains profanity.