Don (Amitabh Bachchan) is a ruthless gangster that has evaded capture by the police for a very long time — and DSP D'Silva (Iftikhar) is determined to put an end to this. When the police are tipped off about the location where Don is going to make a deal, a car chase ensues, and Don is killed as a result. This, however, is a fact that is only known to D'Silva, and here is where a clever plot is hatched.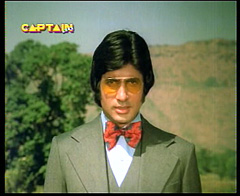 [ Amitabh Bachchan is Don ]
Some months before, a street singer called Vijay (also Amitabh) had approached D'Silva about taking care of two abandoned children. Vijay happens to be the spitting image of Don, and therefore, D'Silva trains Vijay to replace Don, so that he can not only aid in trapping the criminal gang, but also lead the police to the big gangster Vardhan. However, all is not as simple as it seems. Roma (Zeenat Aman) has also entered the gang through subterfuge — she is looking for revenge as Don had earlier killed her brother Ramesh. Another subplot involves the father of the two children, Jasjit (Pran) — Jasjit was a former circus performer who was roped in to pull off a robbery by Don's henchman Narang (Kamal Kapoor). The robbery went wrong, and Jasjit was crippled and put in prison by D'Silva, because of which he could not prevent his wife from dying and his children becoming lost. He therefore wants revenge as well.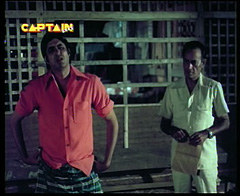 [ DSP D'Silva trains Vijay ]
Despite its length (close to three hours), the movie is fast paced, with several interesting subplots and characters. One of the strong points of this film is definitely the way the supporting players are developed — each of them does make an impact. Of course, the highlight is Amitabh's performance as Don/Vijay — and this is one of the reasons for the film's classic status.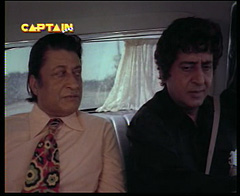 [ Narang forces Jasjit into the robbery against his will ]
The movie is quite stylish and flamboyant in its own way, and the pre-credits intro, with Don showing up in yellow-tinted sunglasses pretty much hooked me. I thought the music was terrific as well (reminded me of films like Enter the Dragon), and there are a couple of classic songs on the soundtrack. The action scenes are also quite good (one in particular — the car chase on the streets of Mumbai where Don dies — is excellent) and add the requisite amount of excitement to the film.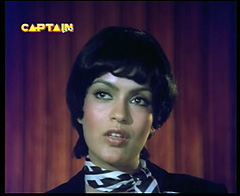 [ Zeenat Aman as Roma ]
Sure, the film tends to exaggerate emotions a bit and there are sequences that don't really hold up as well today as they might have done 28 years ago. Some of the fight scenes have the heroes jumping and defeating the bad guys almost as if they have superpowers! It's spirited entertainment nonetheless, so I suppose it can't be criticised too much.
Don was remade in 2006 by Dil Chahta Hai director Farhan Akhtar. The remake follows the overall structure of the 1978 film, but Farhan has added his own twists to his dad's screenplay. The remake is a polished, well-done film that I also enjoyed, as it's more gritty and realistic than the 1978 film, however, its focus on characters is sort of lacking, because many of the supporting players do not make an impression at all (the most obvious difference for me was in the way the character of Narang was handled, you barely even notice him in the remake). Anyway, both films have their own strengths, and I liked both of them equally.
I watched the VCD version of this film released by Captain Video. This is presented in full frame (I guess that is the original aspect ratio of the film), and is on two discs (they're both pretty much filled to the brim, with 80 minutes on each!), with quite good video and sound quality considering the film's age.
Running Time: 160 minutes | Country: India | Genre: Action/Thriller
I rate all movies or game add-ons on a scale of 1 to 10 points. 1 is the lowest score, 6 is barely above average, 8 is good, and 10 is excellent (this score doesn't indicate something that is perfect in every way — it just means that I enjoyed it a lot). You'll find that I tend to give ratings of 8 and above often (that's only because I enjoy whatever I'm reviewing!). Reviews are updated as felt necessary. Of course, everything said in these reviews is my humble opinion only.