An international criminal syndicate is bringing in large quantities of drugs into India and Malaysia, and the police forces of these countries are after the big boss, Singhania, and his rival, Vardhan (whom no one has seen). Singhania's Indian operations are managed by the gangster Don (Shahrukh Khan), and when Don is in India, the police, led by DCP D'Silva (Boman Irani) are given information on his location.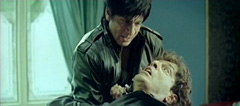 [ Shahrukh Khan as Don ]
An exciting car chase ensues, between the Mumbai Police and Don, and it ends with the capture of the very badly injured Don by DCP D'Silva. A few months before, D'Silva was approached by a street musician called Vijay, regarding adopting a boy who was left on the streets. Vijay happens to be the spitting image of Don, and since no one except D'Silva knows about Don's capture, they decide to send Vijay in as an informer to the cops, hoping that the information Vijay gives them will lead to the capture of Singhania and possibly even Vardhan.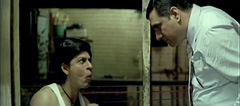 [ DCP D'Silva and Vijay ]
There are a couple of elements that make the whole situation unstable though — one member of Don's gang, Roma (Priyanka Chopra), wants to take revenge on Don for killing her brother; and then there's Jasjit (Arjun Rampal), the father of the boy Vijay has adopted, who wants revenge on D'Silva for sending him to prison and thus rendering him helpless to save his wife and child.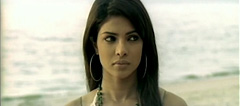 [ Priyanka Chopra as Roma ]
This is a remake of the classic 1978 Amitabh Bachchan thriller Don, and if you read my review of that film, you'll find the overall storyline to be almost exactly the same. However, it is not really so. This film is written and directed by Dil Chahta Hai's Farhan Akhtar, and what he has done is, take his dad's screenplay for the 1978 film, and add his own twists to it. While certain scenes and dialogues re-appear almost exactly as they did in the original, thanks to a twist that would have been introduced a bit earlier, they now have a different context. I had watched the original film just a day before seeing this, so I was comparing the differences, and this added to my enjoyment of the film. It's definitely not a direct remake, and so retains interest.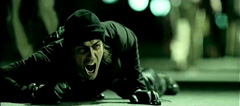 [ Arjun Rampal as Jasjit ]
Beyond the changes in the story, the most obvious difference between this film and the original are in the overall visuals and style — the original was a flamboyant "larger-than-life" movie, while this one is a more gritty film. Of course, the film is extremely stylish (but in a different way from the original) and glossy — with the director opting for international locations and designer attire and cars featuring prominently. The action scenes are very professionally done — whether it's a shootout in a restaurant, a freefall from an aircraft or a hand-to-hand fight scene. I loved the electronic music score by Shankar-Ehsaan-Loy as well, and the reworked "Don" theme music and the remixed songs from the original.
While the film was technically excellent, I thought it was a bit of a letdown characters-wise. The film didn't develop the supporting players at all, and instead, chose only to focus on the central characters. Take the character of Don's henchman Narang for example. He had a much bigger role in the 1978 original, whereas here it's almost a throwaway role. Anyway, I thought Shahrukh Khan gave a good performance as Don/Vijay, as did Priyanka Chopra as Roma; and the always reliable Boman Irani was impressive as D'Silva.
Comparing the two films, I find it hard to pick which one is better. I like both for different reasons, so in the end I'll take the easy way out and say that they're both equally good! Watch this one in the theatre though.
Running Time: 168 minutes | Country: India | Genre: Action/Thriller
I rate all movies or game add-ons on a scale of 1 to 10 points. 1 is the lowest score, 6 is barely above average, 8 is good, and 10 is excellent (this score doesn't indicate something that is perfect in every way — it just means that I enjoyed it a lot). You'll find that I tend to give ratings of 8 and above often (that's only because I enjoy whatever I'm reviewing!). Reviews are updated as felt necessary. Of course, everything said in these reviews is my humble opinion only.