Well, it is finally official — I'm getting transferred to Hyderabad next week!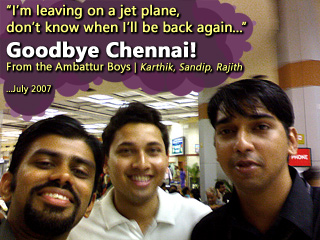 It's hard to believe that two years have passed by so soon. After joining TCS in May 2005, Rajith, Sandip and myself were among the people allocated to the Chennai branch after our induction, and we occupied a house in Ambattur. Fast-forward to the present, and a role change is being looked at for all the people who joined with us — Sandip has already moved to Kolkata (the picture above was taken at Chennai Airport on the day Sandip left), and Rajith and myself would be moving to Mumbai and Hyderabad respectively, on Wednesday. My next assignment would involve recruitment, so for the past couple of weeks I've been undergoing training from the Recruitment Team at Chennai.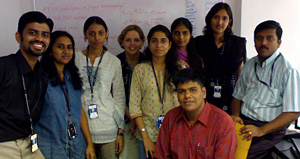 On 22 Jun, the HR Team at Sholinganallur office organised a farewell for me, and on the next day, Rajith and myself were invited over for lunch at Sangeetha's place, and later we visited Anusha's and Charles's homes as well. Was great, and after that we got to see Sivaji at Raakki theatre! This being just about a week after the release of the much-hyped film, there were huge crowds outside the theatre.

The next day, Rajith and me filmed some footage that will be possibly used for an upcoming music video for my Boulevard of Broken Dreams cover! I'm taking the footage over to Hyderabad and will let Varun work some of his magic on it.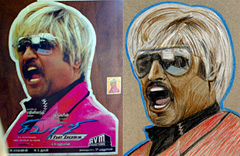 I recently also did a drawing of Rajnikanth in
Sivaji — The Boss
and it's come out pretty nicely! Should note that this was based on a photo I took of a
Sivaji
sticker which was pasted inside one of the autos in Chennai! This one was done on grey paper with colour pencils, and I was surprised at how little time it took (I don't think I spent more than half an hour or so on it). Have a look at that
here
, and please give your comments!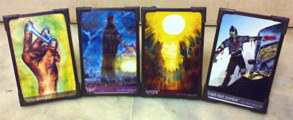 Yesterday I went to the SNR office and gave gifts to the team I worked with for the past one year. Like Varun did with some of his photos a year and a half ago, I prepared printable versions of some of my paintings and got some laminated pieces produced. The ones I used were: Rain (8 copies), Jungle (7 copies), Sticky Alien Goo (4 copies) and Crash Test Zombie (1 copy). Samples you can see above, these are the ones I retained after giving away the rest (obviously, I didn't give anyone the zombie piece!). And this morning, I sent off most of my luggage to Hyderabad through Chennai Packers and Movers. So what plans over the next few days? Rajith and myself are vacating the house tomorrow and we'll be moving to a hotel, where we will stay for the next couple of days. My flight is booked on Wednesday, and I'll be home in Hyderabad that day.
I'll certainly miss a number of things in Chennai — places, DVDs, Tamil movies, etc.; but most of all I will miss the people I was close with over the last two years (you all know who you are). Anyway, life must go on...
This also means I won't have internet access from Sunday morning onwards, and will "reconnect" only once I reach Hyderabad.