A lot of people have come up with their "best of" and "top 10" lists for 2007, and here is one of mine! This is a list of my picks for the Best Movies of 2007. Of course, this is entirely my opinion, and these movies are selected from the ones that I watched in 2007. So here we go!
300 and Sunshine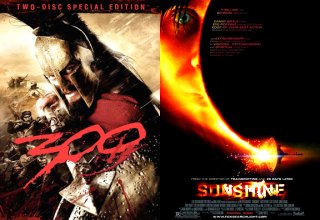 300, Zack Snyder's adaptation of the Frank Miller comic book was a much anticipated movie after its excellent trailer was released towards the end of 2006. I got to see this in the theatre a little late, as I was in Chennai at the time and it was released there a couple of weeks after coming out in other cities! Anyway, it's a very dramatic and action packed movie, with artistic scenes of bloody violence. Many people I knew were surprised when I told them much of the movie was computer generated. Sunshine, Danny Boyle's science fiction film about a group of astronauts re-igniting our dying sun was thrilling and had stunning visuals and music. Sure, it was not 100% original (you'll recognise elements from 2001 and Event Horizon in the later parts), and the last third was kind of out of tone with the rest of the film, but to me it is still one of the best films I saw in 2007.
Zodiac and Hot Fuzz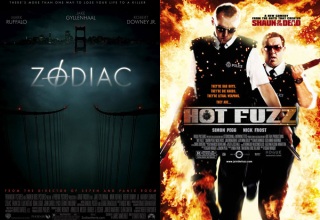 David Fincher's Zodiac was a detailed look at a 40-year police case and the people involved in it. While not Fincher's best movie (that honour, in my opinion goes to Fight Club), this is still an amazing film. I loved Edgar Wright and Simon Pegg's zombie comedy Shaun of the Dead, so was eagerly waiting to watch their next movie Hot Fuzz, which was an homage to action movies. It's a very well done movie which is both funny and action packed.
Saw IV and The Bourne Ultimatum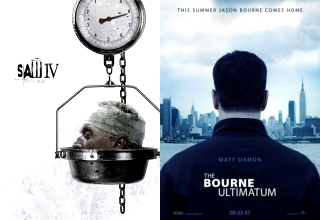 Two main characters were killed off by the end of Saw III. With that, how does one continue the series? Not only did they make an involving thriller with Saw IV, there's even room for them to make further movies in the series. While, by this point, the movies in the Saw series depend a lot on coincidences and Rube Goldberg-type scenarios, they're still very well done thrillers and far more intelligent than standard horror movie franchises. Another sequel worth noting is Paul Greengrass's The Bourne Ultimatum. This is a two hour chase movie that barely lets you breathe, and it has an interesting plot too. Very nicely done.
And the BEST MOVIE OF 2007, in my opinion, is:
GRINDHOUSE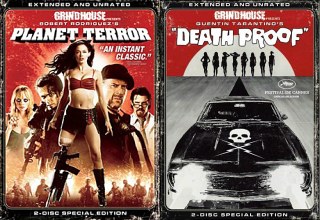 There's so much about Quentin Tarantino and Robert Rodriguez's collaboration, Grindhouse that makes it a remarkable work — the two individual movies are both excellent (Planet Terror was incredible, and while I didn't like Death Proof as much the first time I saw it, it grew on me on repeated viewing), and the fake trailers that they put in are also great. I loved the whole thing.
Best Movie, Hindi:
Chak De! India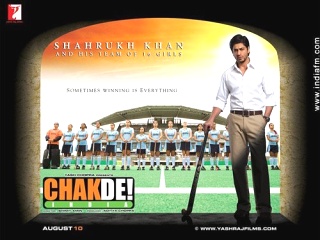 Had I seen Taare Zameen Par in 2007 (instead of on 1 Jan 08), it would be part of this list. But as it stands, Shimit Amin's Chak De! India is a very well made movie and I thoroughly enjoyed it. Hence, I got the two-disc DVD they released, subsequently!
Best Movie, Telugu:
Happy Days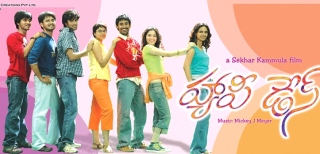 Simple and entertaining movie about college life from director Sekhar Kammula. It has excellent songs too.
Best Movie, Tamil:
Chennai 600028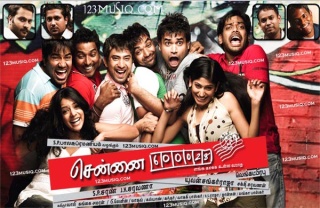 I watched this movie twice in theatres, and both times, were not in Chennai (one was in Madurai, and the other time was in Coimbatore, both times I had gone for Campus Recruitments)! Anyway, it's another very nice comedy/drama about friends and cricket. Songs (Yuvan Shankar Raja) are amazing too.
And then, here is a list of the best OLDER movies, which I got to see in 2007 —
Clerks II (2006)
Borat: Cultural Learnings of America for Make Benefit Glorious Nation of Kazakhstan (2006)
The Prestige (2006)
The Big Lebowski (1998)
The Fountain (2006)
John Carpenter's Prince of Darkness (1987)
Sky Captain and the World of Tomorrow (2004)
Contact (1997)
John Carpenter's Halloween (1978)
The Good, The Bad and The Ugly (1968)
Well, there you have it. Comments welcome!