Director Gautham Menon makes small appearances in his films. I put together a small image with his appearances in four of his movies —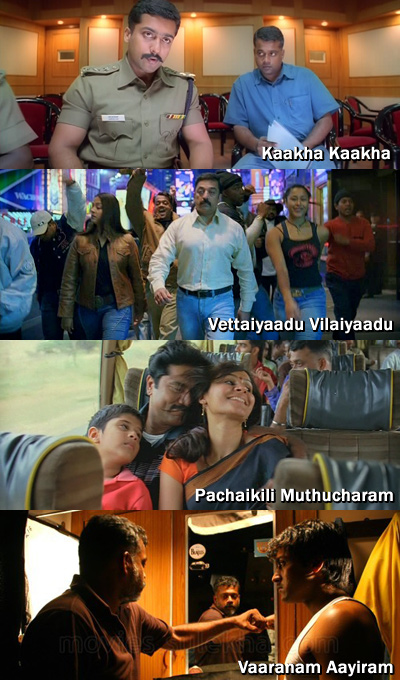 Kaakha Kaakha (2003) — Gautham plays a police officer named Vasudevan. There he is on the right of the frame.
Vettaiyaadu Vilaiyaadu (2006) — He doesn't actually have a role in the movie, but he appears in the background as a dancer during the song "Manjal Veiyil". He's in between Jyothika and Kamal Haasan in the picture.
Pachaikili Muthucharam (2007) — I didn't notice this the first time I watched the movie, but spotted it only later on. During the song "Kaadhal Konjam", there's a brief shot with the family on a bus. The guy on the right of the frame, with his face partly obscured is Gautham.
Vaaranam Aayiram (2008) — This movie hasn't been released yet (May release it seems), and I have no idea what it's about. But it seems that Gautham has a bigger role to play in this movie. There are two pictures I've seen on the net — the one above, and another one with him playing a guitar.
I haven't seen his other movies (Minnale and Rehna Hai Tere Dil Mein), so I don't know whether he makes appearances in those films too. I went through my DVD of Gharshana but that is an inferior remake of Kaakha Kaakha, and as far as I can tell, he is not in that movie.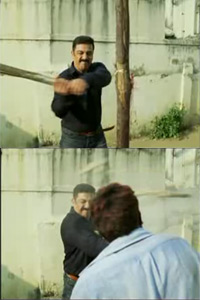 Speaking of Gautham Menon, here are a few video clips I came across on YouTube recently (thanks to a friend posting links on his orkut page) —
I'm looking forward to watching Vaaranam Aayiram, though I don't know whether it'll be released in Hyderabad. But do have a look at the trailers above, all are good stuff.