Watchmen, written by Alan Moore, drawn by Dave Gibbons and coloured by John Higgins, is in my opinion the finest graphic novel of all time. Originally published as a 12-issue comic book series from 1986-87, it was later collected as a close-to-400-page book. Suffice to say it's an incredible book, and it was one of the first things I bought with my first salary (more info here) after having read it already.
Anyway, a movie adaptation of the book has been in the works for several years. Somewhere in 2005 director Paul Greengrass (The Bourne Supremacy and The Bourne Ultimatum) got involved, but that project fell through. Several months later we found out that the movie was actually happening — at a different studio (Warner Bros) and with a different director, Zack Snyder. Snyder made the awesome 300, and my faith in the movie adaptation only kept increasing on seeing the images of the sets constructed for the movie. Snyder even made a post on the official movie blog that he himself drew the storyboards for the entire film (that's some 2000-plus images). Sometime back, it was announced that filming had officially wrapped, and the movie was now in post-production.
And here we are today, one year away from the release of the movie (it will be released in the US on 6-Mar-09). To celebrate, Snyder posted the first look at some of the characters from the movie (apparently, he posted at 11:55 PM, which has significance in the book)!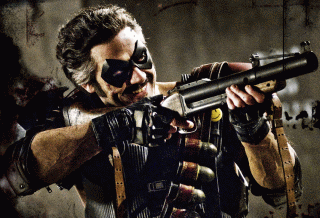 The above picture shows Jeffrey Dean Morgan as "The Comedian a.k.a. Eddie Blake". There are five character pictures that Snyder has posted — The Comedian, Nite Owl II, Ozymandias, Rorschach and the Silk Spectre. Have a look at the relevant page here. In my opinion they did a fantastic job in translating these characters from the book for the movie (look-wise atleast). I don't think it could be done any better! One hopes the script (by Alex Tse based on a script by David Hayter) will do justice to the book. At any rate, I thought these pictures were incredible (notice, he hasn't shown what Dr Manhattan looks like yet, now that should be something to see!) and I look forward to seeing a trailer sometime soon!