I got a new laptop last Saturday! This is a HP Pavilion dv2701TX Special Edition Entertainment Notebook PC.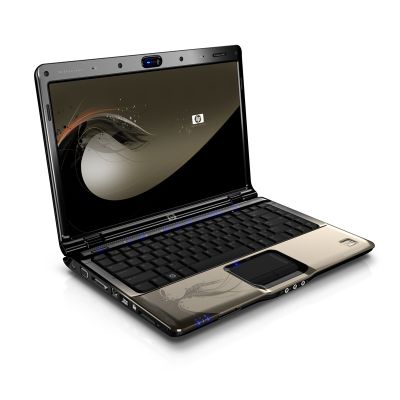 I had been planning to buy a new laptop for a while, since my older one was giving problems. (By the way, on 24-Apr the new version of Ubuntu Linux, 8.04 LTS, codenamed Hardy Heron, was released. I downloaded that and installed it on my old machine, and was very happy with it.) The new computer cost about Rs 45,000 (which is far less than the amount I paid for my old computer two and a half years ago!). It has an Intel Core 2 Duo 1.67 GHz processor, 1 GB of RAM (which I am planning to upgrade later), and a 160 GB HDD. I love the build quality of this computer, it feels sturdy and the design is very nice. In fact, I took feedback from my friend Maheshwaran (who runs My Mind Leaks) on this — and he told me that his HP laptop was "used as a pillow while travelling" and had "fallen off a study table", and was still working fine. Personally I think the 14.1 inch widescreen is the perfect size for a laptop, and that's what I went for. I love the bright screen on this computer. Besides all that, the computer has a very aesthetic design (seen in the picture above, which is swiped from the HP website). In general, no complaints about the computer so far.
The computer comes with Windows Vista Home Premium, and this is what I am using now. I've read horror stories about Vista (a guy being told that it would take him 130 years to write a CD, very funny YouTube video about programs being incompatible with Vista), but I've had no major problems. Only minor annoyances. Here are a few of them below —
Hogging Space — Vista seems to be consuming a lot of disk space. I installed a few of the common applications I use and about 10 GB or more were eaten up. As far as I know this is Vista trying to set "restore points", so logically it should stop with this unless I install more stuff (which I am not going to). But I don't know how much more space it will eat up.
User Account Control (UAC) — This is supposedly a feature of Vista that enforces security, but to me it's more of an annoyance — I am repeatedly told that something is an "unidentified executable" and asked whether I want to run it or not. Dude! If I didn't want to run it, I wouldn't have double-clicked the icon in the first place! Give me a break! I understand that this is supposed to prevent newbie users from running harmful programs, but I doubt how much it actually helps.
Media Player Classic and UAC — Media Player Classic is a nice little open-source media player that I use. I downloaded the program and wanted to place it in C:\Program Files like all other programs. So I go to the relevant folder and then create a new folder, when I am greeted with a prompt that says that I need to give permission to continue! Then there's one more UAC prompt that comes up. Keep in mind, that so far I've got a folder called New Folder, so renaming it takes two more prompts! There really ought to be some kind of Administrator login for Vista. When I was using Fedora, I was always using the system as the root user. Linux informs you that this could be potentially dangerous when you log on — but keeps quiet after that.
Doom Builder and UAC — Doom Builder is the editor I use to make my Doom levels. This is a great program that works perfectly fine in Windows XP. Who knew that it would give problems with Vista? First time I ran it, I got an error saying that I needed msvbvm50.dll which I downloaded and placed in the relevant folder. Even then, when I ran the program, I got an error that said "Error 75: Path/File Access Error". A quick search led to a Doomworld Forums post which gave the solution — you have to set the builder.exe executable to run in Compatibility Mode with Windows XP and also set it to "Run as Administrator". The catch is that UAC kicks in EVERY single time you run the program, and asks you for confirmation on whether you want to run it or not! While one might say that one extra click isn't much of an annoyance, I question why it is required in the first place. You'd think something related to Doom would run well with something related to UAC (UAC being Union Aerospace Corporation, the fictional company in Doom)! However, on second thought, I guess Vista's UAC, like its namesake in the game, is an evil entity!
The Blue Screen of Death — It seems that no matter how many years pass, the BSOD won't leave Windows. Three times so far I've "woken up" my computer only to find that it had restarted. In a very friendly way, the computer tells me that "Problem Event Name" as "BlueScreen"! You'd think they were actually proud of this!
Of course on the positive side the OS looks very nice and the "Aero" interface is glossy and pretty. Let me try this out for sometime, and then I will see if I can set up a dual-boot option on my computer (Vista plus Ubuntu Hardy Heron). My only worry is that they didn't give a Vista DVD with the computer, so if something goes wrong, I won't have a way to reinstall the operating system (which I paid for, mind you!). I have the Windows XP CD that came with my older computer though, so let me see how things go.