Monday
· 12 May 08 · 02:56 AM IST | Posted by
Karthik
| Category: Movies
Thought I'd give a quick rundown of the movies I've watched recently.

Speed Racer — Watched this movie today at Prasad's Multiplex. A live-action re-imagining of the 1960s anime from the Wachowski Brothers. Varun used to watch the show on Cartoon Network many years ago, but I never really watched it. Anyway the current movie is colourful and dazzling, with great visual effects, however I think it will mostly appeal to kids only. Automobile racing is the only thing Speed Racer (Emile Hirsch) knows how to do, and when Royalton Inc offers to partner with Racer Motors to finance his racing, he gets a glimpse of how evil corporates fix races. Determined to bring down corrupt businessmen, he must compete in a high-stakes race along with the mysterious Racer X. John Goodman plays Pops, Speed's father — but all through, I was imagining what it would have been like to have Goodman's character from The Big Lebowski, Walter Sobchak, in this movie. At a tense moment in the end, he'd have told Speed "Nothing is fucked, Speed". When some incompetent ninjas attack Speed and family, he'd have said "Those fucking amateurs". But then the movie would certainly not have been very kid-friendly! Anyway, Speed Racer was fun and worth watching in the theatre to get the benefit of the visuals. 7/10.
Iron Man — This one was also seen at Prasad's Multiplex last week. Billionaire Tony Stark (Robert Downey Jr) is captured in Afghanistan and forced to create a weapon for some arms dealers. However he secretly builds a crude armoured suit which he uses to escape. After his return to the US, he perfects his designs and becomes the superhero Iron Man. This was an incredibly entertaining movie with great visual effects, and I loved Ramin Djawadi's music score too. It has a great cast (including none other than "The Dude" from The Big Lebowski, Jeff Bridges) and some breathtaking action sequences. There's a scene in this movie after the entire end credits, and to my surprise, they actually showed it in the theatre. 9/10.
The Signal — A mysterious "signal" is broadcast over all television, radio, phone and cellular networks and turns people into violent killers. This is the setting for the movie, which is split into three interconnected segments. Mya (Anessa Ramsey) and Ben (Justin Welborn) are lovers who want to escape Terminus City, and are pursued by Lewis (A J Bowen), Mya's deranged husband. This is a very well-written and acted movie, a thoughtful science fiction-horror film. Apparently, directors David Bruckner, Dan Bush and Jacob Gentry worked on their segments independent of each other! 8/10.
No Country for Old Men — The year's Best Picture Oscar Winner. Llewellyn Moss (Josh Brolin) comes across two million dollars in cash at the scene of a drug deal gone bad, and takes the money with him. Of course, as the movie's tagline says, there are no clean getaways — and he is relentlessly pursued by the psychotic Anton Chigurh (Javier Bardem). There is considerably less dialogue in the movie — a lot is communicated through the direction and editing. A tense thriller from the Coen Brothers. Great stuff. 8/10.
The Big Lebowski — I've seen this movie many times before, but after watching No Country for Old Men I rewatched it. Jeff Bridges plays Jeff Lebowski a.k.a. The Dude, a lazy slacker in Los Angeles. In the Coen Brothers' warped world, there exists another Jeff Lebowski (the Big Lebowski of the title) who is a millionaire, and whose wife owes money to one Jackie Treehorn. Thus begins a great crime movie involving mistaken identity, kidnapping and bowling! John Goodman plays The Dude's friend, Walter Sobchak, a high-strung Vietnam veteran. This extraordinary movie has an amazing screenplay and is extremely funny. 10/10.
Untraceable — A cyber-thriller with Diane Lane as an FBI security specialist trying to track down a mysterious criminal, who traps victims and puts them in Saw-type torture devices — and then broadcasts a feed live over the net. The more the people who log on to killwithme.com, the faster the victims die. The premise sounds interesting, but the movie as a whole falls flat. The dialogue sounded completely artificial and made me cringe at times. 5/10.
Outpost — A group of soldiers arrive at an abandoned WWII bunker and discover that they may not be alone. An okay horror movie that is quite atmospheric and well-shot, but ultimately unremarkable. It just wasn't scary, and spent way too much time in build-up without much payoff. 6/10.
Inside (À l'intérieur) — A French horror film. A pregnant woman (Alysson Paradis) is all alone at her house on Christmas Eve, and it is the night before her delivery. That is when a mysterious woman (Beatrice Dalle) shows up at her house and threatens her. It appears that the strange woman is psychotic and wants the baby for some reason. The movie is one of the bloodiest and most violent ones I've seen — it will blow you away. Very well done, if you can stomach this sort of thing! Written and directed by Julien Maury and Alexandre Bustillo. I watched the unrated version. 8/10.
That ought to do it for now! I have a bunch of other stuff to watch (I got a few Telugu DVDs too, recently!) and I will write about those movies once I see them.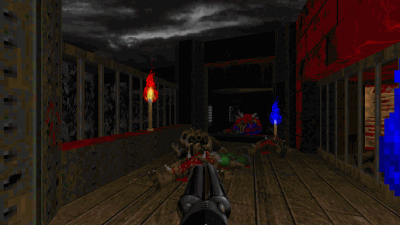 Dark Fate 2 is a singleplayer level for Doom II, replacing MAP01. It's a small-sized hellish level — and there's a walkthrough video as well.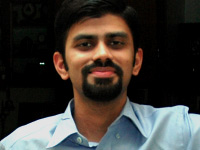 27-year old Taurean (birthday 15-May-82), Assistant Manager - HR at Tata Consultancy Services Ltd in Hyderabad, India. Previously, did Post Graduate Diploma in Management from T A Pai Management Institute (2003-05) and before that, Computer Science Engineering from Sree Nidhi Institute of Science and Technology (1999-2003).
Email: karthik82 -AT- gmail -DOT- com
orkut profile
Facebook profile
YouTube channel
deviantART page
Google Reader Shared Items
Disclaimer: The views expressed on this site are purely my own.
Warning: This site occasionally contains profanity.