A long time has passed since the last post, so I thought I'd briefly summarise what has been going on —
23-May: Bangalore Trip — Varun got admission into K J Somaiya Institute of Management and Research. So he resigned from his job in Wipro Technologies and completed all the separation formalities on 22-May. I left from Hyderabad that evening and reached Bangalore the next morning, to help him bring his stuff back to Hyderabad. Check out this post on Varun's blog for more information. We travelled by bus. On the return trip, they played a crappy camera print of Billa (the 2009 Telugu film) twice. Oh and not the whole movie — only the first 45 minutes. The next day, we (my parents, Varun, me) watched 99, which was an excellent movie. The next couple of weeks, Varun would be in Hyderabad, preparing for his eventual joining at SIMSR in Mumbai.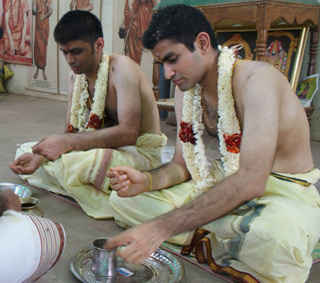 10-Jun: Chennai Trip — On 10-Jun, my parents, Varun and myself left for Chennai. Varun and myself had our Upanayanam performed on 11-Jun. This was also a chance to meet many of our relatives in Chennai. I had to shave my mustache and beard for the ceremony, so it was an opportunity to try out a different look, as you can see in the above photo! We returned to Hyderabad on 11-Jun itself.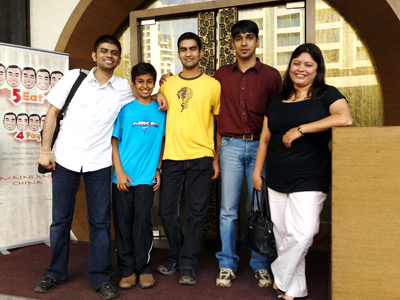 13-Jun: Mumbai Trip — Varun's joining date in SIMSR was 15-Jun, so we (my parents, Varun, me) went to Mumbai on 13-Jun. Got to meet my cousin (and fellow movie fan) Girish, my friend Rajith, and also my boss Vaidehee. All can be seen in the above picture which was taken at this restaurant called Mainland China. After that, went to meet Anagha and Rob in the evening. Varun reported to the SIMSR hostel on 14-Jun and we helped him set up his stuff there. Attended a small part of Varun's induction program at SIMSR on 15-Jun morning, and then said goodbye to him in the afternoon and left Mumbai. Reached back Hyderabad that night.
Hooked on "Lost" — Started watching episodes of the TV show Lost in sequence, over the last few weeks. By now, I have completed watching two seasons of the show and it is absolutely fantastic. More on that in the next post.
Things have been quite busy over the last couple of months on the personal front, so that's why the lack of updates on the blog. Anyway, updates should pick up now onwards.