EDIT [18:44]: I just checked IllustrationFriday.com and saw that the topic for this week is "Pioneer". So I'm submitting this drawing for that, since Quentin Tarantino in my mind is a pioneer in cinema!

I had this idea sometime back, to do a bunch of drawings inspired by Quentin Tarantino movies (this because the typical collage type drawing wouldn't suffice — there are too many memorable characters from Tarantino's movies!). The first one that I did was one of Christopher Walken as Captain Koons from "The Gold Watch" sequence in Pulp Fiction. Here it is below —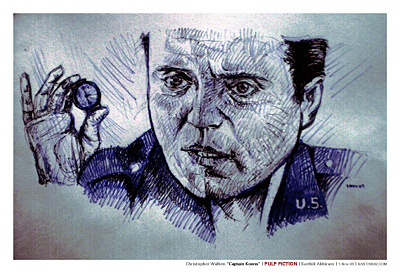 That was done with a black and a blue ballpoint pen. The above image is a photo (not a scan) of the drawing, tweaked a bit using Curves in Photoshop. And as you might have guessed, there is a video of me drawing this, which is embedded below —
I tried to replicate the Tarantino "trunk shot" in the video. The typefaces used in the video are all from Tarantino movies — Friz Quadrata Bold, Avant Garde and Benguiat. The music used in the video is called "Express to Goo Land" and is an early piece by my good friend Pablo Dictter.