A Drawing and a Teaser Trailer.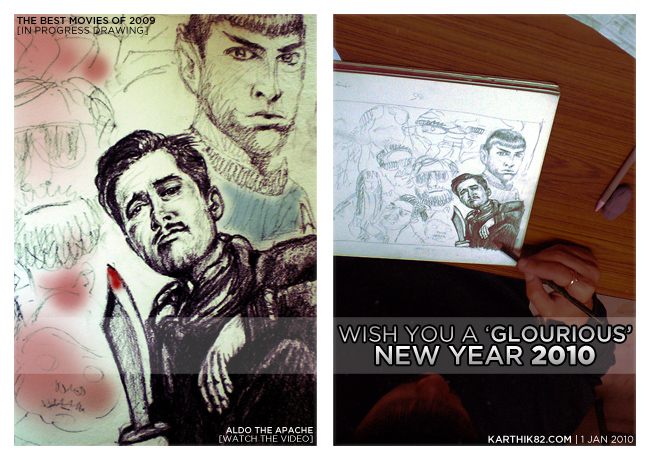 You had to expect a sequel, right?
Last year at this time I did a drawing (and subsequently a video) called The Best Movies of 2008. I am working on a follow-up to that, and this is what has inspired this year's New Year Greeting. Prominently featured is Quentin Tarantino's Inglourious Basterds, so here's wishing everyone a 'glourious' New Year 2010!
Below is a teaser trailer. It features music from the Dev.D trailer (this movie by Anurag Kashyap is one of the films in the 'Best of' list), that is, the band and rock versions of "Emotional Atyachar". This is included because I like the song, not because I'm wishing Emotional Atyachar on anybody!
WATCH THE VIDEO ON YOUTUBE | DOWNLOAD A MEDIUM-QUALITY COPY (384 x 288 resolution 7 MB WMV file, use right-click "Save As...", I recommend VLC to play it)
Happy New Year...
to Family and Friends...

to my Parents and my brother Varun,
to all my Friends, Colleagues, old and new —
to everyone who has visited (and visits) my site...
and to everyone in the Doom Community...
Hope all of you have a great 2010!
— Karthik, 1-Jan-10
The full drawing and video... coming soon!
Older New Year Cards: 2009 | 2008 | 2007 | 2006 | 2005 | 2004 | 2003 | 2002