At about this time last year, I had posted my picks of the Best Movies of 2007. This time, rather than simply do a list like that, I decided to do a drawing. The original intent was to finish the drawing in time for my New Year's Card, but that didn't happen. Anyway the drawing is completed now. I haven't yet scanned it, so you will have to wait for some time for it to be added to my gallery, but for now, there is a video for you to see —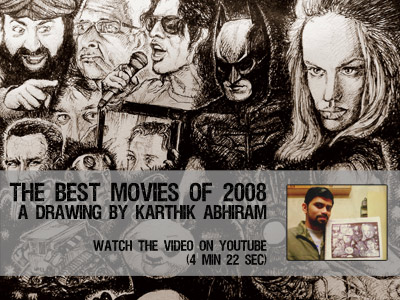 Click on the image above to view the video on YouTube. I had recorded quite a bit of video footage when drawing that (Varun also filmed some footage), and I edited that to produce this video.
A few other random updates —
Varun was in Hyderabad for around 10 days recently. He came here on Christmas day (and got me a very nice gift — a t-shirt with a print featuring my artwork!) and went back to Bangalore on 3-Jan-09. Check out this post on his site, where he has posted a video that he made when he was here. It is a video of him drawing a picture of Iron Man. The footage for that video was shot by me using my Nokia N82 cellphone.
In recent weeks, I read issues 1 though 56 of the comic series The Walking Dead and issues 1 though 26 of Planetary. The former is a unique take on the zombie story and it is a very nice series. Excellent writing by Robert Kirkman who knows how to extract drama out of the situations and great black and white artwork from Charlie Adlard and Tony Moore (initial few issues). The latter series is written by Warren Ellis and is an interesting science-fiction series. A few of these issues were actually available to buy here (published by Gotham Comics before they closed down). The overall story really picked up in the later issues and was really interesting! The art by John Cassaday is super.
A month back, I bought a pair of Bose earphones for Rs 4950. The quality is great, but I think, comparable to the quality of the earphones that come with Sony Ericsson Walkman phones. I did an amusing video about that.
Movie-wise, got to see a lot of good stuff — Dasvidaniya in theatre, Rock On!! on DVD, Ghajini on its first day of release in theatre, Timecrimes, RocknRolla, The Bank Job, Slumdog Millionaire.
Work has been very hectic recently, that's why I haven't found time to update regularly. Anyway, let's see what the coming days have in store. From 22-Jan to 27-Jan, I am going on a vacation to Goa!